Brazilian or keratin hair straightening is all the rage because of its excellent results. This hair treatment achieves a smoother and more natural look, restoring shine and softness while eliminating frizz.
However, this type of straightening is expensive and lasts three to four months.
Make the most of your Brazilian straightening to get the most out of your investment.
Looking for longer-lasting hair? Don't worry; with these tips, you can wait a little longer before having the treatment done again. If you do everything, you can have straight hair for five months.
If you want to dye your hair or get highlights, you should do it before keratin straightening.
The composition of the dye causes the hair cuticle to open, which means that it is exposed to physical and chemical damage.
If you apply the Brazilian straightening treatment after dyeing, the cuticles of your hair will be sealed, and it will be more protected.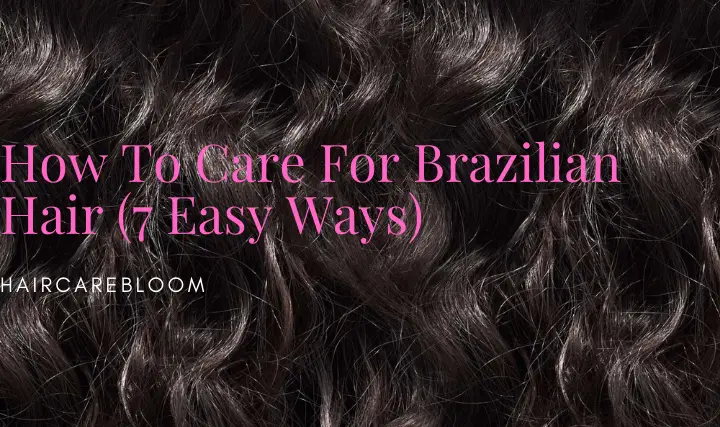 Note: you can color your hair 15 days after the application.
If your hair is damaged by the effect of hair dyes or excessive use of a flat iron, you may need to cauterize it. After 20 days of treatment, you can apply an extra dose of keratin.
This cauterization with keratin will be enough for your hair to regain vitality.
If your hair is normal or mixed, this application should be made after a month and a half.
So get the most out of your straightening by following these simple guidelines:
How To Care For Your Brazilian Hair
1. WASHING
Washing is a fundamental part of maintaining the keratin in your hair.
The best way to prevent the cuticle from opening is to use a shampoo without salt or with a neutral pH of 5.5.
Being less alkaline, this product seals the cuticle and fixes the keratin.
Do not use anti-residue or deep cleansing shampoos. Neither are the most commercial ones because they have a higher pH and are harmful to the treatment.
Shampoos for dry or anti-frizz hair also interfere with the straightening process, shortening its duration.
Of course, you have to be careful of environmental factors. If you go to the beach, use sunscreen for your hair and rinse.
If you swim in pools, wash your hair as soon as you finish, as chlorine damages the straightening process.
2. SHAMPOO
It is advisable to wash your hair with a Salt-Free Shampoo.
These shampoos are pH balanced and less alkaline, keeping the cuticle sealed, thus preventing the keratin from coming out.
Do not use anti-residue or deep cleansing shampoos or those common shampoos with a high p.H (7.7).
The use of such products causes the straightening to disappear prematurely as they open the cuticle.
Do not use dry shampoos or anti-frizz shampoos.
Their formula interferes with the straightening process, so buy a salt-free shampoo for dry and/or damaged hair.
3. CONDITIONER AND MASK
Regarding conditioners, try to use them daily, and they have nourishing properties for chemically treated hair. On the other hand, masks are a good option to moisturize the hair.
In this case, you can apply the mask every 15 days if your hair is normal or mixed and every ten days if it is dry or very dry.
The instructions say that 5 minutes is enough, but it is better to lengthen the process so that the nutrients penetrate your wet hair and the smoothing lasts longer. (mask recipes).
Conditioner is a daily use product. Try to use light and moisturizing conditioners, especially for chemically treated hair.
Masks are designed to strengthen, nourish and/or moisturize.
They should not be used daily as a conditioner, as the typical 5 minutes under the shower is not enough time for the mask to provide all its benefits.
4. EXTRA CARE
After three months, the straightening starts to fade, and some waves appear.
To prolong the straightening for another month, you can undergo the hair plastic treatment, which contains a large amount of keratin and collagen.
In order for the cuticle to remain closed and the Brazilian straightening nutrients to remain inside for longer, it is important to keep the water inside, so home moisturizing is essential:
Normal or mixed hair: moisturize at home every 15 days.
Dry or very dry hair: moisturize at home every 10 days.
5. DYES AND HIGHLIGHTS
If you want to dye or highlight your hair, it is better to do it before the smoothing, as the treatment will seal the open cuticle.
If you are not yet ready to retouch your highlights or dye, you can do it 15 days after the treatment.
6. EXTRA KERATIN TREATMENTS THAT PROLONG THE STRAIGHTENING PROCESS
If your hair has been badly damaged by highlights, dyes, or excessive use of the straightener, it is advisable to have a cauterization or a capillary plastic one month and a half after straightening.
In this way, taking advantage of the keratin contribution of this treatment, with an extra dose (necessary in this type of hair so damaged because the straightening is not able to fill the cuticle in its entirety), we will get even closer to the recovery and strengthening of the hair.
Brazilian straightening is removed from the hair progressively, so after 3 months, the first waves begin to appear.
If this is your case, having a cauterization or a plastic will prolong the straightening for a few more months.
And why not have another straightening? This is because it is not possible to apply such a large and intense load of keratin when there are still traces of the previous straightening in your hair because it would produce saturation of this protein.
This problem can be avoided with cauterization or capillary plastic, less intense treatments than straightening.
7. SUMMER CARE: POOL AND SEA
The care that we propose at Aquarela Peluqueros is very important to keep your hair straightening perfect and prolonging its results.
It is also necessary to clarify that it does not disappear just like that, and with the right care, it can last up to 5 months. We recommend you:
If you go to the pool or the sea, try to rinse your hair with fresh water as soon as you get out of the water.
Chlorine and salt help to remove the straightening agent.
Use sunscreen for your hair.
Use salt-free shampoos.
Moisturize once a week, every two weeks, or once a month, depending on your hair.
If the steps listed above are followed properly, then you can rest assured of well groomed brazilian hair.