For hair coloring, many prefer indigo as a more natural and effective alternative to paints of chemical composition.
Indigo does not damage the structure of the hair and gives it a beautiful color with beautiful reflections in copper or bronze tones; in addition, it cares for, strengthens, regenerates hair follicles, and makes hair healthy.
But if you need to remove the bright red color of indigo dye from the hair, it can be very complicated.
It requires special methods and some procedures, which are described in detail in this guide.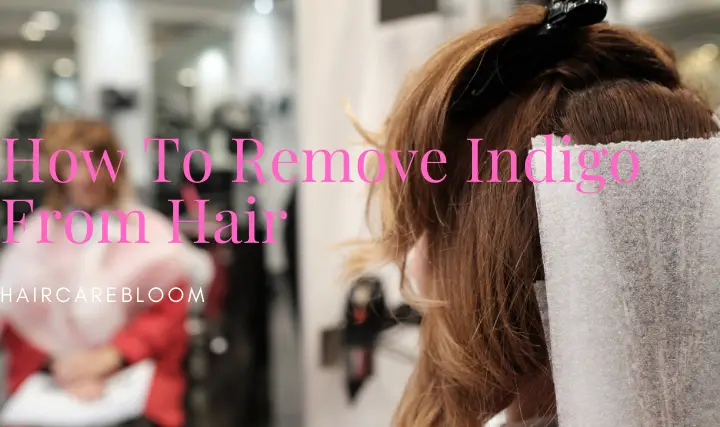 Reasons to remove indigo dye from hair
One of the main disadvantages of dyeing hair with indigo is not achieving the desired result. This is especially the case when coloring damaged and weak hair with indigo.
Using indigo on dyed or bleached hair is not a good choice because the resulting color can be a real surprise.
Therefore, it is important to consider these cases when coloring your hair with indigo.
Unwanted shade: Sometimes, after dyeing your hair with indigo, the result is not a completely reddish hair but a greenish shade that is not very pleasing to the eye.
Changing hair color: For those who wish to paint their hair with a different shade than usual to change their image, opting for indigo dye is not the best option.
Because it is not recommended to use indigo on dyed hair, besides mistreating the hair, the resulting tone does not always match the desired color.
Read: How To Remove Black Henna Dye From Hair
How can I remove indigo hair dye at home?
After dyeing your hair with an indigo dye, you should subject your hair to a thorough examination of hair color and condition.
If the result obtained does not meet your wishes, then you should act immediately.
The sooner you start washing your hair, the faster you will remove that unpleasant shade.
The quality of the paint and its individual characteristics also determine the resulting color.
But most likely you will not completely remove the bright red hue of indigo just by washing, to balance the color and reduce the sensitivity of the scalp should go to a beauty salon or use home remedies to speed up the process.
Here are some general tips to eliminate the negative effect on the hair of indigo dye.
Immediately after dyeing, wash the head several times with shampoo, so you will remove a large amount of the pigment from the hair along with the foam.
The paint is rinsed off more quickly, during the first few weeks after the application of indigo dye, you can effectively remove the dye from the hair.
Often, only one wash is not enough, so washing must be repeated several times.
You must remember that the chemical components often deteriorate and damage the hair, therefore, when washing, observe the condition of the hair beforehand.
Masks are used to gently and carefully remove indigo dye from the hair.
After several washes, the hair is ready to be dyed again, but only in darker shades.
There are several ways to remove indigo. At home, you can use natural ingredients in the form of hair masks, as well as use fermented milk products and essential vegetable oils.
Recipes for effective removal of indigo dye with hair masks
Masks prepared from natural ingredients can be an excellent method to effectively remove indigo dye from hair. You can directly take the products you have in your refrigerator to prepare them.
Remember that the effectiveness of hair masks increases if you cover your head with a plastic cap and place a slightly warm towel on top of it.
Of sour cream. To prepare this mask, it is best to use fatty and slightly sour cream. It should be brought to room temperature and applied all over the hair for 40-50 minutes.
In addition, this product cares for the skin and provides nutrients to the hair follicles.
Of kefir (Yogurt). Mix about a liter of kefir with a small amount of powdered cosmetic clay, which is usually sold in pharmacies. After obtaining a uniform preparation, apply it for several hours along the entire length of the hair.
Yeast. Mix a little yeast with kefir, place the preparation in a warm place. After the mass grows, apply it to the hair and leave for 2 hours.
If necessary, repeat this procedure several times for 3-4 days.
From onions. To make this mask, you must squeeze several onions to get fresh onion juice. You can also use the blender and apply this juice all over the scalp.
After 30 to 40 minutes, shampoo and rinse with warm water. The unpleasant thing about this mask is the intense onion smell that remains in the hair.
Red pepper. This mask is also used to accelerate hair growth and awaken the hair follicle.
To do this, you must cook in vodka several tablespoons of red pepper and apply on the hair for up to 20 minutes, after that wash with regular shampoo and rinse with warm water.
Masks prepared with natural oil extracts can also help to reduce the hair tone from the application of indigo dye.
After applying these masks, the hair requires thorough shampooing.
Sunflower oil. Sunflower oil should be slightly warmed in a water bath and evenly distributed with a comb throughout the hair. After a few hours, wash it with shampoo.
Butter. Mix a little natural butter with a little linseed, heat in a water bath to obtain a uniform preparation and leave for several hours on the hair. This procedure should be repeated several times.
Olive oil. Mix equal proportions of olive oil and mustard. Slightly heat and apply for 30-40 minutes. Repeat several times a week.
Natural products that every housewife has can help remove indigo dye from the hair.
Household soap. Brown soap, which does not have a very pleasant smell, has many benefits associated with its use, it can even help remove the bright red color of indigo.
To do this, you should lather your hair and wrap it for 15 to 20 minutes.
After that time has elapsed, you should rinse your hair well and apply a hair care rinse or balm.
Table vinegar. It is necessary to dissolve a few tablespoons of vinegar in a liter of clean warm water, then pour this solution into a container and immerse the hair in it, avoiding contact with the eyes.
It is necessary that the vinegar acts on the hair for 15 minutes, for this you can immerse the hair in the container for as long as possible.
After this procedure, you should rinse the hair with warm water and apply a balm.
You can remove indigo hair dye effectively with the following products below:
Cognac. Combine cognac with castor oil in equal amounts. Apply to hair for 40 to 60 minutes. Then wash with regular shampoo and to finish apply rinse or conditioner to your hair.
Soda. Mix some alcohol with baking soda. Add a little lemon juice and apply to the hair and leave for several hours. This mixture mistreats the hair and weakens it but removes indigo dye quickly and quite effectively.
Vodka. Mix in a container of vodka, olive oil and honey. Heat and distribute the resulting mixture on the hair from roots to ends. After 3 to 4 hours, rinse thoroughly.
Professional products and techniques
In a salon you can achieve a faster and optimal result to restore the hair to its original color. The stylist will determine the most suitable remedy and provide professional assistance in removing the indigo dye.
You can achieve the desired effect yourself with the help of professional products sold in exclusive stores for hairdressers. Consider the most recognized brand.
"Hair Company Hair Remake Color, a product made from natural fruit acids and vegetable ingredients, makes the hair soft and removes the dye color without destroying the hair structure.
For best results, it is recommended to apply it several times.
"Colorianne Brelil." Removes indigo dye with chemical components without leaving traces on the hair. The natural acids and vegetable proteins it contains protect the scalp, it does not mistreat it.
"Salerm". It is an ideal product for removing natural indigo dye, but it will achieve the desired result only after several applications. At the same time, it has a rather high price in comparison with similar products.
"Paul Mitchell". A product that enjoys a certain prestige among hairdressers. It helps to completely remove indigo dye from the hair, without damaging it.
"Decoxon 2 faze Kapous". It is a professional product that enhances highlights in the hair after use.
"Estel Color Off.  It is a product that is not entirely effective in removing indigo dye. After several applications, the tone is not very attractive, but you can paint your hair again with a paint containing ammonia.
Conclusion
As a result of reviewing numerous magazines and videos from beauty bloggers and fashionable women, the following conclusion was reached:
Most women prefer to use professional products to remove indigo dye from the hair, as it allows them to achieve the desired effect faster.
Masks made with alcohol dry out the hair too much, so it is advisable to alternate these masks with different nutrients that help to restore and regenerate the hair.