Ladies wear wigs for several reasons ranging from  hair loss to the excitement of trying out different hair colors and styles. Many women of different ages wear wigs for different reasons.
The top 4 reasons why women wear wigs are,
Thinning Hair – caused by stress, hormonal imbalance, disease, and medication.
Alopecia – Can be brought on by aging, too little iron, medication, menopause and hereditary diseases.
Special Events (Weddings)
Role Playing (Costumes)
Generally, here are some of those reasons why women wear wigs:
Wigs can conceal natural hair issues.
They are convenient.
Wigs can protect natural hair.
Women who wear wigs can save a lot of money!
Wigs don't require a commitment.
The vast choice of wigs available is overwhelming but wearing the perfect wig brings confidence to our ladies. This article seeks to explore the unique benefits of lace front wigs and how to care for them.
Read: How To Clean Lace Frontal Sew in While Installed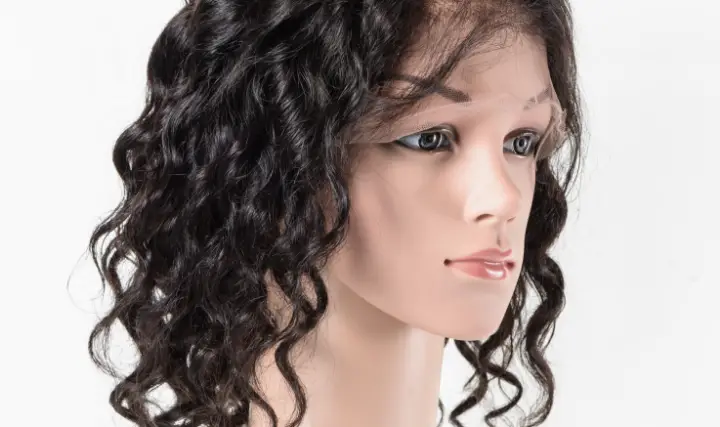 What Is A Lace Front Wig?
A lace wig or a lace front wig is a special type of hairpiece or wig in which human hair or synthetic hair is tied by hand to a sheer lace base which goes over the scalp.
What makes the lace frontal wig unique?
Due to how natural the wig looks, it's nearly impossible to tell if you are wearing a wig at all. This makes you fabulously comfortable.
Let's take a brief look at what makes the design of these wigs stand out, giving it that revolutionized natural wig look:
A lace front wig is a wig that has a sheer lace attached to the crown of the wig to blend with your skin easily and resemble your natural hairline.
Lace front wigs are great at disguising an unnatural boundary between your wig and skin, making it perfect for those also looking for new hairstyles to explore
The lace front wig allows the wearer to choose a hairline by providing a lot of styling options. With the realistic look it gives, you can style your lace front wig in a variety of ways, from side parts, fishtail braids, ponytails, or a messy bun. Unlike regular wigs, its versatility allows you to style and change where the part lies on your lace front wig, while still retaining a flawless natural hairline.
The lace is only in the front half of the wig, to allow the wearer to part the hair any way they want.
Modern-day lace wigs can be worn while doing activities like swimming and exercising, which make it a popular choice among alternatives.
The lace front wig provides the illusion of a natural hairline. The front lace wig has a small sheer lace panel attached to the hairline of the wig. Hair strands are sewn onto this, giving the effect of an undetectable hairline and the illusion that new hair is growing. Hence, providing a great confidence booster for those experiencing hair loss.
Celebrity Hair Styles
Over the last decade, lace front wigs have surged in popularity, often worn by many celebrities.
This includes Beyoncé, the Kardashians, Jennifer Lopez, and Tyra Banks.
It allows them to have the perfect hairstyles for films, concerts and carpets.
On average, installation of any kind can cost anywhere from $150-$300. In most cases, you will have to pay more to receive the best service.
The best service means a lace front wig that looks identical to your hair.
A full lace wig covers the entire head and must be installed slightly differently than a lace front wig that is only attached at the front edges of your head.
However, if you don't want to do all the work of installing a lace front wig, you can go for a natural. Use a wig that matches your hair texture and has all of this already worked on.
Lace front wigs are great for people with a thinning scalp, as it helps them make up for their bald hairline.
Lace frontal wigs are difficult to maintain and look after but with impeccable maintenance and care, you would be able to wear your lace front wig for up to a year and still have a great frontal.
Wearing a Lace Front Wig
You can either wear it with tape, elastic bands, or use glue. If you decide to use glue, make sure you use the right adhesive type designed specifically for installing lace fronts in place.
Before you install your wig, do a skin test a day before to check if you are allergic to any of the materials you intend to use.
You can test your skin by dabbing a small amount of liquid adhesive or double-sided wig tape onto the back of your hand and then observe for any changes.
Washing Your Lace Wigs
The most frequently asked question about washing your lace wig is how often it should be washed.
If you wear your lace wig every day, then it should be washed at least every two weeks.
If you use styling products like hairsprays, mousses or gels on your wig every day, you'll need to wash your wig more often, about once a week.
Or it only needs to be washed once every 7 to 10 wears if you wear it not so often.
There are five easy steps for cleaning and renewing your lace wigs. This involves removing any glue, adhesive, or other bonding agents.
While the lace wigs are easy to take off while it is on top of your head, once you take it off it is going to require some tender, loving care to bring it back to like-new conditions.
There's a limitation though, the steps that will be mentioned in this article are restricted to wigs not made from silicone.
If your wig is made from silicone or has silicone bits in it, do not follow the steps.
Quick tip: Silicones and substantive conditioning agents alongside other ingredients create a protective layer on the hair that silkens away roughness, smooths curls and amps up the hair's shin. Silicon Mix Treatment works well on weaves and wigs.
Items needed:
Plastic/Metal Container
Sink
Measuring spoons, a teaspoon
Adhesive Remover
Mild Shampoo
Toilet Paper
Hand Dish Washing Liquid
Step 1: Remove the adhesive or tape.
Use your fingernail to gently scrape up the edge of the tape to start the peeling from polyurethane areas of your lace wig and remove the tape.
If you have any problem removing the tape, here's a quick tip; try soaking your lace wig in the adhesive remover first for several hours before peeling it off.
If you do soak it first, use a piece of toilet paper to get a better grip on the tape because it may be slippery.
While doing this, ensure not to peel away or remove any tape from the lace areas.  This could damage the wig.
Step 2: Soak the lace wig.
Your lace wig should be soaked in a stainless steel container.
The soaking time may vary from 20 minutes to 24 hours depending on the type of lace wig and adhesive you are using.
Step 3: Clean your lace wig
Remove your lace wig from the solution and lay it in a sink face up (the hair will be on the bottom).
To clean the lace areas gently brush the swollen adhesive residue with a fingernail brush to loosen and break it free.
Quick Tip: To clean the skin areas use a teaspoon by scraping any excess residue off with gentle, short vertical strokes.
After getting most of the excess residue off, place your wig back into the container full of solvent. Leave it for 2-3 more minutes.
Step 4: Rinse your lace wig
To rinse your lace wig;
Move your wig from the solvent back into the sink.
Pour a lot of hand dishwashing liquid onto the base while it is still dripping wet with solvent.
Brush across the edge of the base and out throughout the hair with the fingernail brush
After a few minutes of brushing, rinse your wig with high pressure lukewarm water down through the base. (Repeat this step a second time).
A quick tip: If there is still adhesive residue in your hair system, you probably didn't soak it in the solvent long enough. Go back and repeat step 2.
Step 5: Shampoo and condition your lace wig.
Finally, after rinsing thoroughly, wash the unit again. This time use a mild shampoo to balance the acid level.
To remove the shampoo, run cool water from the base down to the bottom of the hair.
Once you've gotten rid of the shampoo and the water runs clear, use a towel to gently blot the hair before applying conditioner.
The wig can still be damp, but you don't want it to be sopping wet.
For the best results, use a shampoo that is specially made for your wigs.
These shampoos are gentle enough not to damage the hair and they are designed especially for your wig's needs.
Also, Don't forget to condition your lace wig!
Your lace wig should always be clean and clear of any old adhesive residue. Regular cleaning is recommended to keep your lace wig looking fresh and beautiful.