Without any doubt, lace frontals are the recent rave. Wait, before we proceed, what is a Lace frontal?
Frontal sew in can last from 6 months to 2 years depending on the quality of the purchased.
What makes you achieve a more natural look for your wigs and extensions, yes, that is a lace frontal.
They are often 4 inches to the back and 13 inches across, covering your hairline ear to ear. Its flexibility allows you to try out different hairstyles such as center parts, side parts, or ponytails that look natural.
Hair weaves can do much more than make your hair look longer and thicker.
Sew-ins are the most gentle way to add extension hair for long-term use.
There's no glue involved, so when it's time to remove them, you don't have to worry about losing hair as you pull them off.
As long as it's not cut up and the adhesive is all removed, feel free to reuse your frontal as many times as you like.
How To Identify Frontals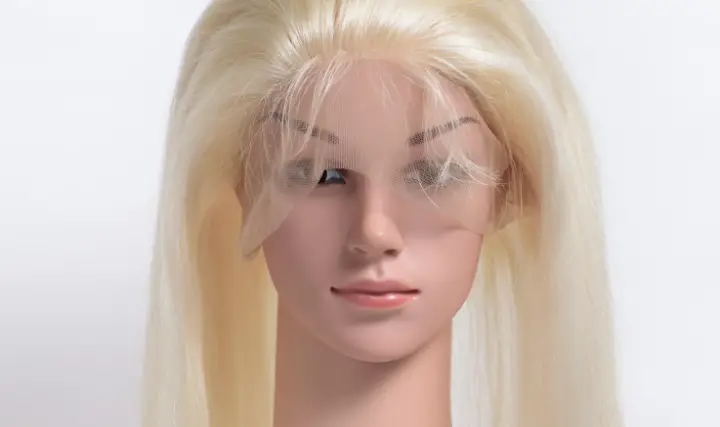 One way to identify frontals is that they are used to recreate the hairline from ear to ear.
Unlike closures which are used to recreate the natural parting of the hairline.
Since both lace frontals and closures help to get your look on point and are great for styling your wigs, weaves and natural hair extensions, choosing which option to go for sometimes presents itself as a difficult task.
So if you are looking to invest in a great wig and yet to decide whether to go for a lace frontal or closure, we have got you covered.
This blog is not intended to prescribe which one is better than the other but only to tell you everything you need to know about lace frontals, in particular, its pros and cons, and how long it would last.
Read: How To Clean Lace Frontal Sew in While Installed
Pros of wearing a lace frontals
Lace frontals allow quality flow of air to your hair.
Wearing your wig or sew in extensions and experiencing huge discomfort from them during unbearably hot weather has become a routine which we believe no one should be accustomed to.
Lace frontals are comfortable to wear on the head and allow constant flow of air to your scalp and hair.
With lace frontals you can style your hair however you want.
One of the biggest perks of wearing a lace frontal hairpiece is the versatility it offers, which allows you to personally style your wigs or extensions however you want, from ponytails to middle or side parts.
Lace frontals give you a natural hairline, so you have the freedom to style your hair as desired.
It's almost like styling your own natural hair!
Lace frontals have less Installation time
Lace frontals are easy to install and often require little installation time than sew-in natural hair extensions.
It takes an average of less than one hour to install lace frontal wigs or an hour and a half for extensions with frontals.
Lace frontals are the go-to option for modern women who want protective styles to protect their natural curls and looking to spend less time getting ready every day.
Installing sew-in natural hair extensions like ponytails, usually take about 2 – 4 hours depending on the desired style.
Cons of wearing a lace frontal
Lace frontals are more expensive
Because of the need to achieve a more realistic natural look, lace frontals are more expensive to buy than lace closures.
While lace frontals need fewer raw Indian bundles, the freedom of versatility to style any desired look which it offers will explain the spike in the price of the lace frontal.
Lace frontals can require a lot of work
At first installation of lace frontal wigs, it requires a lot of tweaking to achieve the natural look it has.
You will need to do things like bleaching the knots of the wig, tweezing, tinting, plucking or trimming baby hairs and installing your wig correctly so you can achieve a realistic hairline.
If you wear a sew-in lace frontal extension, it often requires weekly upkeep and maintenance, to achieve better results and a more natural look.
However, if you don't want to go through all that styling, you should rock a lace frontal wig, which doesn't require as much work as sew-ins.
Lace frontals can damage your hairline
Sew-in lace frontal wigs are usually installed using glue or lace tape. They last between 2 to 4 weeks without needing a retouch.
The longer period of time your lace frontals have to stay installed can make it irritate your skin and severely damage your hairline or break off your edges.
No matter which lace frontal you choose, we can not deny the beauty of lace frontal. Once you bring it to home, you will always want your lace frontal to last very long.
How To Choose The Correct Lace Frontal
Don't forget this. The essential factor to choose your suitable lace frontal is quality!
We can tell you that once again the quality is very important for getting a long lifespan lace frontal wig human hair. In the market, there are different quality standards to measure the hair quality.
There are virgin human hair and non-virgin human hair.
And there are also the Remy hair and the Non-remy hair.
The virgin hair is made of 100% human real hair which is collected from many women. It has the higher quality than the non-virgin hair.
The non-virgin hair is made of the synthetic material. It is processed by many chemical procedures, so very easy to be damaged.
Therefore, the durability of the non-virgin hair can only last up to weeks or several months.
Hair is much less healthy once the cuticles are stripped. Acid chemicals damage the hair even further and cause more shedding.
How to care for the lace frontal wig?
1. Keep the hair clean
Cleaning your hair regularly is the first step you should do. This should be done for the first time you receive your new lace frontal with bundles.
After installing, you should also wash your hair once a week to keep the hair clean. Dirty hair will damage the hair, shorter the lifespan.
2. Wash your hair according to the directions
Washing hair also needs to follow the direction, not using too hot water, brushing your hair smooth before washing, using the high-quality non-irritant shampoo and conditioner, drying your hair with a clean towel and natural air, do not using the powerful hairdryer.
3. Style your hair properly
Daily styling is also very important. Combing your hair with a wide teeth comb, style your hair with the right tool, giving your hair regular moisturizing, do not using the hair spray and the Glanz gel on your hair.
4. Care for your hair when sleeping
Wearing the lace frontal wig human hair is not recommended, unless you caring your lace frontal install wig properly.
Not sleeping with the wet hair, covering your hair with a silk cap, the silk pillow is also recommended.
Despite you can sleep with your lace frontal wig human hair, but you still should remove your wig every 2 weeks to give the lace frontal sew-in a complete washing and caring, also giving your natural hair a rest.
5. Store your lace frontal wig human hair
Buying a plastic model head for storing your 13×6 lace frontal sew-in wig, this can keep the hair texture well.
The lace frontal sews in is like our hair, the more careful we treat it, longer service time it will bring to us.
After reading this article, have you got a plan of how to care for your lace frontal? For any problems, please kindly contact us.
How Long Does a Lace Frontal Sew-in Last?
Normally, the durability of the sew-in lace frontal can last up to more than 6 months, this service time is not only for the lace frontal 13×6 but also for the 5×5 closure and the 6×6 closure.
Some high-quality of lace frontal can last one year and a half or even 2 years.
The lifespan of the lace frontal really depends on the many factors.
First important factor is where you bought the lace frontal.
Second depends on how you take care of your lace frontal.
The store that you bought your lace is very important. Because it will show the quality of the lace frontal.
For example, if you bought your lace frontal from the reliable store, your hair quality will be guaranteed and you do not have to worry too much about the lifespan of your lace closure.
But if you bought the hair products from the untrusted store, your lace closure might be worn out easily. Lace closures however last for longer.
Whether you're going for a sew-in or lace closure wig, they typically last longer than a frontal, with proper maintenance.
Lace closures are more suited for warmer weather. They don't require as much gluing and customizing as sew-in lace frontal wigs do.
After 2 or 3 weeks, your sew-in lace frontal wigs start to lose their glue and pull off gradually at the edges. 
If you take the time to invest in good quality bundles, you could have hair extensions that last up to 2 years. This makes it more convenient and cost-effective to have a sew-in.
Wigs have short life expectancy even the best of the best quality ones can still look messy over a certain amount of time.