Appearance is crucial for everyone, especially females. Every day they spend a lot of time in the mirror to look more beautiful. One of the parts of the body they care most about is the hair.
These are taken care of and embellished by any means. The hair, both women and men, needs constant care; curly or straight, long or short, the hair straightener is a valuable aid in fixing their hair.
On the market, there are all types, for any need, for all types of hair, and for all budgets. It is a small appliance, which like everything else, from time to time needs a little 'maintenance, especially if you use it frequently.
Cleaning the straightener should be done at least once a month. This preserves functionality and durability. On the plate, in fact, deposit many residues from our hair and not, such as wax, foam, dust, and liquid crystals.
Read: How To Clean Hair Straightener Without Rubbing Alcohol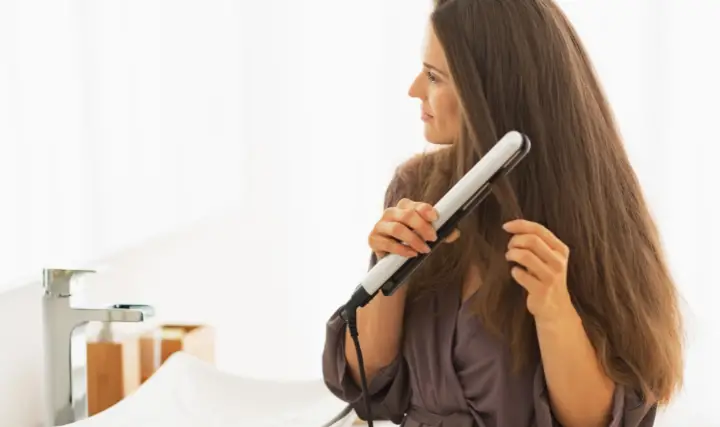 What you need
Our guide will help you to clean your beloved straightener in a few minutes. First, you will need:
Alcohol
Lukewarm water
Soft cloth
To proceed with the cleaning of the hair straightener plate, you must first think all that the small appliance is off and cold.
First of all, we take a soft cloth, excellent are those in microfiber and a basin of warm water.
Dampen the cloth and rub it gently on the plates, insisting only there where you see dirt difficult to remove. If this is not enough, help yourself with the tip of your finger or a cotton swab.
If your plates are made of ceramic, avoid rubbing too hard so as not to scratch them. For a permanent removal of any traces of dirt on the plates, use a few drops of alcohol on the cloth and not directly on the plates.
This way, your plates should be back to their former glory! Be careful not to pour alcohol directly on the plates, as this could affect their operation.
Finally, with the help of a clean, dry cotton cloth, dry your straighteners thoroughly at every point, from the corners to the plates, including the edges.
Avoid using it immediately after cleaning.
Before turning it on again, make sure it has dried perfectly. Even if it is only damp, avoid plugging it in and using the straightener, this is something that must be done long before the tool is needed again.
Also, the residues of water on the plate, in contact with our hair, could ruin it, making you get the opposite effect! If you care about your hair straightener and want it to last as long as possible, the secret is to always keep it tidy and clean.
When it has cooled down after use, you should always wipe it with a paper towel, previously soaked in a solution of water and alcohol.
Only in this way you will avoid accumulating dirt on the plates and your hair will always look vigorous and shiny!
As you have noticed yourself, cleaning your straighteners is a quick and very simple operation, although it must be done regularly, depending on the use you make of the straightener.
How to clean your hair straightener without the risk of ruining it
Cleaning the hotplate in 3 steps
Before starting to clean the plate, you must disconnect it from the power and, if hot, wait for it to cool.
At this point, you can prepare everything you need for cleaning:
a soft, clean cloth, preferably microfiber, a cotton swab, ethyl alcohol or, alternatively, hydrogen peroxide and baking soda, a sponge, or an old toothbrush.
Water and denatured alcohol
Dampen a part of the cloth with lukewarm water and gently pass it over the two plates, being careful not to scratch them in case they are ceramic.
The cloth can not reach the smallest corners and crevices, so use a cotton swab moistened in warm water.
For a more thorough and complete cleaning, you can pass cotton soaked with a few drops of denatured alcohol on all the different parts of the plate.
At this point, dry the plate, always with a clean cloth.
If you do not want to use alcohol, or if there are encrustations, there is another easy but effective remedy to adopt: that is baking soda mixed with hydrogen peroxide.
Baking soda and hydrogen peroxide
Mix two tablespoons of baking soda with a teaspoon of hydrogen peroxide, so as to obtain a thick mixture.
Apply the mixture to the plates and leave for 5/10 minutes.
Remove it gently with a sponge and dry with a soft, clean cloth. In case the dirt is particularly stubborn, you can use an old toothbrush, which reaches even the least accessible parts.
Relaxer
If you have never cleaned your hair straightener, you can also try to use the relaxer, a product that nominally serves for the chemical ironing of curls but can also prove useful for this purpose. Here are the steps to follow:
Apply an even layer of product on the ceramic coating on the straightener turned off, disconnected from the power and obviously cold.
At this point, turn on the plate.
Wait 10/15 minutes, turn off the plate and let it cool completely. Then pass a damp cloth in order to remove the relaxer and dirt.
All the steps for perfect maintenance of your straightener
The hair straightener is undoubtedly one of the most popular and widespread tools in hair care.
By now, those who want a quick and easy styling can no longer do without it, also because the latest generation of straighteners are increasingly versatile and attentive to the welfare of the hair.
The best hair straighteners
Perhaps not everyone knows, however, that hair straighteners, like all household appliances, require a bit of maintenance.
Over time and use, in fact, not only dust but also residues of styling products such as gels, foams, serums, and oils can accumulate on the plates, eventually compromising its operation.
Taking good care of your straighteners is essential to avoid a drop in performance and preserve the health of your hair: ideally, whether it's a ceramic, titanium or tourmaline straightener, it should be cleaned once a month; if you're one of those who use it daily, however, you should clean it every twenty days.
Beyond maintenance, when it comes to hair care, we recommend that you buy quality products that guarantee high performance and are made of safe, long-lasting materials.
Among the many hair straighteners on the market, we suggest below some models that have convinced us in terms of reliability and ease of use:
Straightener with extra-large plates for long and/or thick hair
Plate with automatic setting of the most suitable temperature
Straightener with ceramic coating and ionizer
Straightener with ceramic coating and keratin
Conclusion
In Conclusion, let's see now in detail the 4 simple steps to be performed so that your hair straightener will shine again.
Dampen the cloth with water and wipe the plates with it.
Remove stubborn dirt with a dry cotton bud.
Pour a few drops of alcohol on the cloth and wipe the plates.
Dry the hotplate well with the dry cloth
Finally, before using it again, make sure that your hair straightener is completely dry.