As a girl with curly hair, you know, it's not easy to style. From frizzy roots to unruly ends, curly hair definitely resists being tamed. But it's time to stop fighting with your hair and learn how to keep it in place.
If you've tried moisturizing products and blow-dried your hair in a thousand different ways but still can't seem to get the job done, here are a few tricks to tame your hair without sacrificing it.
After all, curly hair is beautiful and should be shown off.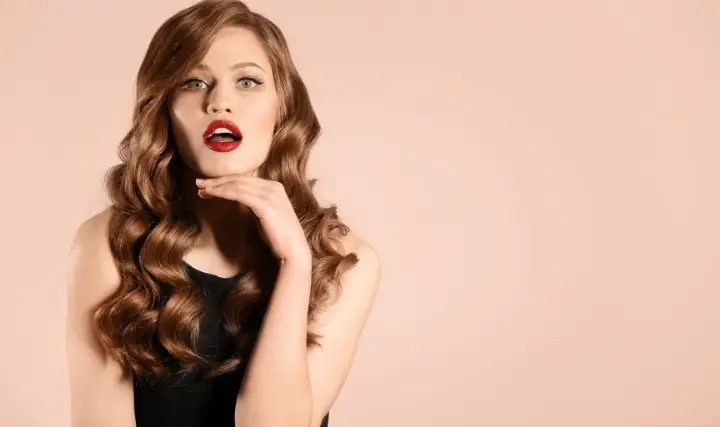 Know your hair type
The first thing you need to find out is your hair type based on density. To find out, carefully pluck a hair from your head. If you don't feel it or feel it lightly between your fingers, you have fine hair.
But If you can feel it, you have medium hair. If you feel the hair is strong and textured, then you have thick hair. Knowing your hair type is essential to finding the right products for it and the most appropriate maintenance methods.
Find out what your curls look like
Just like different hair types, there are also different types of curls: wavy, curly, or coily. Wavy hair tends to have loose curls in an "S" shape. It is neither curly nor straight; it is at the midpoint.
Curly hair is tighter than wavy hair but less so than spiral curls. Finally, spiral curls are spring-like, zigzag-shaped, and start very close to the roots.
Analyze your care routine
It's time to analyze your care routine. Shampoo and conditioner are the foundation of your curls.
To get the best result, look for products that are moisturizing, repairing, and sulfate-free, a range we love is Ouidad Climate Control Defrizzing Shampoo. They are what your curly mane needs to make it look nourished, shiny and smooth.
Pair them with Biolage R.A.W's Re-Hydrate Mask once a week. Formulated with shea butter, it's ideal for moisturizing dry hair. With it, your curls will look more nourished and defined.
Curly hair needs a lot more moisture, so nourishing it in the shower will improve its appearance.
Read: How To Refresh Curly Hair After Sleeping On It
Shampoo the scalp
When you wash your hair, be sure to apply shampoo to the scalp to prevent the ends from drying out. Wash your hair only when it needs it.
Take your conditioner to the next level.
One of the easiest ways to get your hair moisturized is to leave the conditioner in your hair overnight. Once you've applied conditioner in the shower, put on a shower cap to hold it in.
When you get out of the shower, replace the cap with a handkerchief, so you don't stain your pillow when you sleep.
If your hair is a bit overloaded when you wake up, rinse your hair; otherwise, comb it as usual.
Recycle your old t-shirt
If you towel dry your hair when you get out of the shower, your curls will instantly frizz because of the rough towel fabric.
Replace the towel with an old t-shirt to dry your hair. The fabric of the t-shirt is much softer and will dry your hair avoiding the frizz effect.
Use the right brush.
Remember that each type of hair needs a specific brush. Unless you want to look like a lion, use a large paddle brush.
Natural bristles are the big enemy of curls as they break curls and frizz.
The experts' trick is to always detangle curls using a wide-tooth comb or your fingers and start working your hair away from the root.
Be careful with the products you use
Styling gels usually contain alcohol. Apply a small dose as these types of products are very drying to the hair.
If you're looking for styling creams with natural ingredients, check the shopping list for Curl Defining Styling Butter by Biolage R.A.W. to revive your curls and give them a natural finish.
Don't avoid washing
From product overuse to pollution, dozens of factors can affect our hair, creating disastrous problems.
Normally this type of hair is recommended to be washed less. However, it is best to wash it when it needs it.
If you don't do this, your hair will begin to absorb the color worse, the ends may start to break off, and hair growth will be disrupted.
The big trio
For thick, tight curls, the best thing to do is to use a leave-in conditioner, oil, and cream. Applying these products to damp hair will be your best solution.
It will help protect, moisturize and nourish your hair, creating perfect curls.
Get the right conditioner.
Use a conditioner that not only nourishes but also detangles your hair. This type of hair tends to tangle more than other hair types, so it is essential to detangle it well in the shower to achieve perfect curls.
The next time you wash your hair, use a conditioner with a consistency that will help soften and moisturize your hair.
From bottom to top
Detangling your hair doesn't have to be a nightmare. When your hair is damp, comb your hair with a wide-toothed brush from bottom to top.
This way, you'll get the tangles out instead of pulling them down and adding to them, breaking the ends of your hair.
Read: How To Refresh Curly Hair Without Washing
Nighttime routine
Before you go to bed, put a silk scarf over your roots and tie it around your neck. This will keep the curls in the root area from flattening when you sleep.
When you wake up, you'll have perfect curls from root to tip.
Comb your hair when it's wet
Don't try to style your curls when your hair is dry. If you style them when they're wet, you can create more defined curls that last longer.
When you cut it
Next time you go to your salon, ask your stylist to cut your hair dry (yes, the wash/cut order can be reversed).
Wet and dry hair takes on completely different textures and lengths, and it's easier to have it dry, so the result is what you expect.
Unruly ends, brittle curls, and flat roots are no longer a problem with these tricks.