The hair is greasy, but you just don't have the time to wash it? No problem, because with a few simple tricks, you can conceal them in no time.
Oily hair often entails a "bad hair day". But simply washing your hair isn't always the answer.
After all, washing your hair too often is not recommended for several reasons. Washing your hair too often puts a strain on both your hair and your scalp.
Sometimes there is simply no time to wash, blow-dry and style your hair before an appointment.
Even then, aids against greasy hair that conceal the problem are a real blessing. The following tips reveal what helps against oily hair apart from shampooing.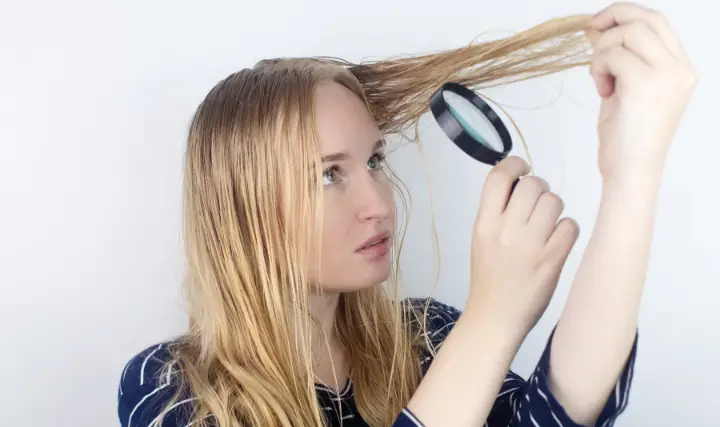 Tip 1 – Direct your gaze away from your hair:
If the hair is only slightly greasy, it is often enough to simply direct your gaze elsewhere.
An eye-catching lipstick in a bright pink or seductive red is ideal for this purpose, for example.
Because now the lips become a real eye-catcher and the minimally greasy hairline is no longer so noticeable.
Tip 2 – Hats/caps in the fight against greasy hair:
Hair first becomes greasy at the roots. This is advantageous in that, depending on the season, greasy hair can be wonderfully concealed with a hat or cap.
So if you don't have time to wash your hair in the morning, simply fall back on a fashionable head covering.
This can also be a cap or a wide headband, as long as it suits the season.
However, with this tip it is important to remember that the respective headgear can probably only be worn outdoors and that decency may dictate that it be taken off indoors.
Therefore, this tip is only suitable in certain situations.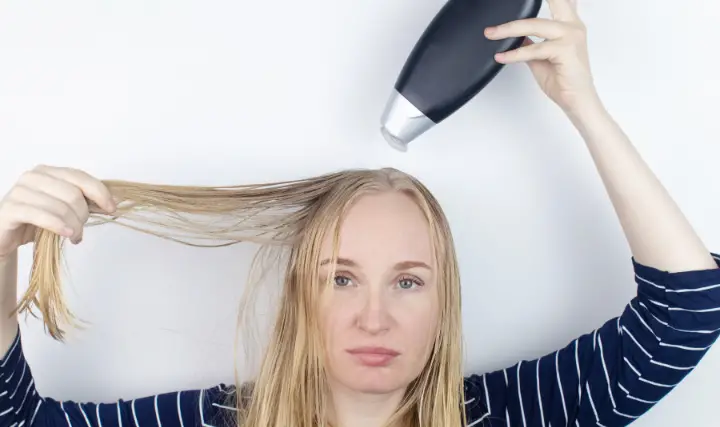 Tip 3 – Baby powder or dry shampoo:
Both baby powder and dry shampoo are great to use to virtually soak up the grease from your hairline.
Simply apply a bit of powder (dry shampoo is now also available as a powder and no longer just in a spray bottle) to the hairline and massage this in well.
Then style the hair as usual.
Already no one recognizes that the greasy hairline would have actually required a hair wash.
However, when implementing this tip, it is important to remember that both baby powder and dry shampoo can cause a gray shimmer in dark hair.
Therefore, it is better to resort to a special dry shampoo for dark hair.
Since the dry shampoo was dyed extra to not stand out even with dark hair and avoid the annoying gray shimmer.
Tip 4 – make loose chignon:
This tip can optionally be combined with the use of dry shampoo or baby powder.
A loose chignon that sits as far up as possible also draws the eye away from the hairline.
Without the use of dry shampoo, however, this tip is also only suitable for slightly greasy roots.
Tip 5 – Braided hairstyles for oily hair:
Elaborate braided hairstyles also lend themselves to concealing greasy roots. Whether it is a French braid or a herringbone braid is up to your own preferences and skills.
The messier the hair is braided, the less visually noticeable greasy roots.
In the case of very greasy hair, it is of course advisable to first treat it with sufficient dry shampoo and only then braid the hair.
However, it should also not be too much dry shampoo, as this can lead to an unpleasant feeling on the scalp and even itching.
Tip 6 – Gel against a greasy approach:
Fortunately, the Sleek style is one of the trendy hairstyles. In this hairstyling, gel is used in the area of the hairline, so that the hair lies close to the head.
However, this only applies to the hairline, while the rest of the mane is allowed to blow freely in the wind.
A portion of gel is also an excellent way to conceal greasy roots with this hairstyle.
The same is true if the hair is styled with gel very close to the head and then tied into a high chignon or a strict ponytail.
Two side snail chignon is another attractive variant of this style for oily hair.
Tip 7 – put on a hood:
If you just want to quickly go to the bakery or run small errands, you can also simply put on a hood so that the greasy hair is not so noticeable.
After all, especially when it's just a quick trip to the store around the corner, many people won't want to invest too much time in styling their hair.
Tip 8 – Hair backcombing:
If the hair is toupeed in the attachment area, it will immediately appear less stringy, greasy and flat.
This tip can also be combined with the use of dry shampoo. Backcombed hair can be wonderfully styled into a chignon or a messy updo.
If you also use hair bands, barrettes or other hair accessories, you can draw even more attention away from the greasy roots.
Tip 9 – Cover greasy roots with a scarf:
You can turn a pretty silk scarf into a wide hair band. This not only has the great advantage that the greasy roots are completely covered by the scarf.
Rather, compared to a cap or hat, a silk scarf can also be easily worn indoors without attracting negative attention.
A wide hairband optionally serves the same purpose as a silk scarf in the fight against greasy hair at the roots.
Tip 10 – Change parting:
A simple change of the parting side is often enough to make the hair look fresher.
So feel free to change from a middle parting to a side parting or from a side parting on the left to a side parting on the right, so that the roots immediately look much less greasy.
Tip 11 – Half bun against greasy hair:
The high chignon, which is styled only from a part of the hair in the area of the hair crown, has also proven itself against greasy hair.
After all, the upper layer of hair disappears in the chignon, while the lower hair, which is usually not quite so greasy, appears on the side.
This trend hairstyle, together with dry shampoo, is also even easier to use as a tool against oily hair.
Tip 12 – Alcohol for hair:
Alcohol can not only provide a good mood but also help against greasy hair. Both mousse and hairspray contain alcohol for a reason.
After all, the excess sebum from the hair can be dissolved in this way.
Even small amounts of mousse or hairspray are therefore sufficient to conceal greasy hair for a short time.
Facial toner, which is specially designed for oily skin, is also suitable in this context.
So just put some facial toner on a cotton pad, wipe off the greasy roots with it and make the greasy hair look much fresher right away! The alcohol simply dries out the grease from the hairline.
Another little tip on the side:
Do not use shampoos with silicones, because silicones are difficult to wash out of the hair.
Thus, even directly after shampooing, the hair does not look freshly washed, but rather greasy and unhealthy.