If you are a hairdresser or someone passionate about starting a hair care line, you already own a business, and you want to create a line of products customized with your logo, you're in the right place.
In this guide, you will discover all the steps that will lead you to realize your project quickly, easily, and effectively.
Together we will see, step-by-step, the points to follow to get to create your unique line of hair products.
Not only that, but we will see how this decision can lead you to realize an important asset for your company with a positive impact on turnover.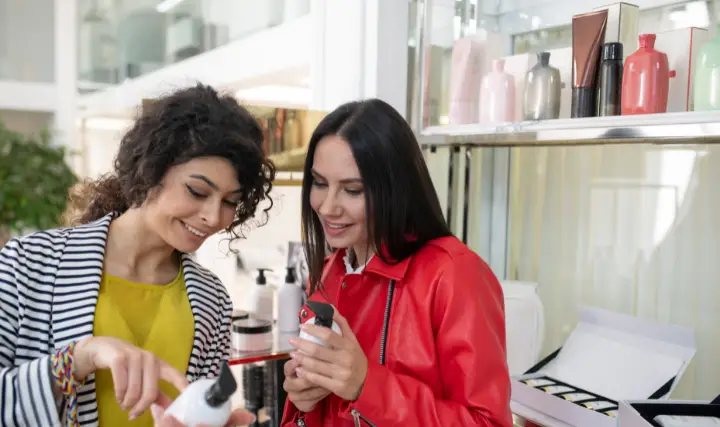 How to create a line of custom products for hairdressers
Creating a line of personalized products is an important step, so it is essential to have clear ideas.
The project must be defined and outlined in every aspect, from the idea itself until the creation phase.
As a first thing, therefore, you will have to understand what will be the products that will compose your line.
Do you want to focus only on shampoos and conditioners or also on masks, oils, sprays, and lacquers?
Hair products are many, but you don't have to start with a line of 8 or 9 products right away. In fact, to try them out, you can start with 3 or 4 products.
To figure out which ones to start with, it's best to observe your customers directly. Which products do they buy the most in your salon, and which do you have the most margin on?
Once you've figured out which products you want to focus on, you'll need to think about formulation.
This is the third step, and as we will see later, it is very important to give a strong and clear identity to your line.
At this point, we can say that your project is no longer just an idea.
Now it's time to dedicate yourself to the business plan in order to understand if the project is economically sustainable.
Read: Can You Shave After Laser Hair Removal
How Much Does It Cost To Start A Haircare Line
When you want to launch a business of this kind, it is essential to have clear ideas about costs and investments.
The amount in question depends above all on how you choose to realize your product line.
The most convenient choice is to rely on an external manufacturer who can make your line ensuring that it respects the quality of the project you have in mind.
We can help you, for example, by helping you to elaborate the winning formulation for your products and making them in Italy following every detail of your idea.
Why should your salon have its own cosmetic line?
All hair salons are associated with a brand; we know that. Whether it's Schwarzkopf, Kerastase, or Redken, normally salon owners try to affiliate with a single supplier who can offer variety and good discounts.
However, this means drastically decreasing product sales in your salon for several reasons:
People trust you, not your supplier
Customers know they have a 99% chance of being able to buy the same products on Amazon at a significantly lower price
You can't adjust the price to your liking because you're tied to the average market price.
The moment you develop your own line, however, you can enjoy:
Higher margins
A strong uniqueness that keeps people coming back to your salon and talking about it to their acquaintances
Total freedom in creating offers
The ability to sell products even to customers who no longer come to your salon for haircuts
No price wars with competitors
Higher margins on haircuts, which you can sell more expensively because your image justifies it.
The implementation process
So let's see what the steps you will have to go through to make your project a reality are.
The first one concerns the formulation of the product, which will be done behind the study, research, and expertise of the best laboratory chemists.
In other words, we're talking about the choice of ingredients.
How to create a line of customized products for hairdressers
The second step involves registering the product with the Ministry of Health and obtaining the PIF (Product Information File), the document that includes the safety assessment of the cosmetic product, which is essential for sale.
At this point, we move on to the creation of the logo, if there isn't one, or to redesign the existing one, if you want to renew it.
In any case, the graphic experts will create a brand that is accurate down to the smallest detail and which will entice you to buy.
The fourth step to creating a line of cosmetics for hairdressers concerns the graphics for labels and packaging, which are carefully designed to give your products a professional and high-quality appearance.
The same applies to the choice of product packaging as well as gift wrapping.
Last, of course, is the actual production of your line. Depending on the supplier you decide to rely on, this whole process can take from 1 to 3 months.
Some laboratories, for example, have gone from the study of the product to the delivery of the goods in 30 days.
Should You Rely on Experts and External Lab?
The support of an external partner is essential for the success of the project. But why should you rely on the experts?
In addition to the low investment required, you will be able to boast the label on your products; the controlled supply chain will give great guarantees to your customers, while you enjoy the simplicity of the process:
External laboratories will take care of the bureaucracy, get you the certifications you want and design a winning formulation with which to boost your sales.
How Much Should I Invest If I Want To Create My Own Branded Hair LIne Products?
If you want to create a customized cosmetic for your business, this could be the most 'delicate' aspect to deal with…
Fortunately, the United States of America is home to many creative people and entrepreneurs, but what are really the economic aspects that you need to evaluate if you are seriously interested in distinguishing yourself from your competitors with a new and unique commercial 'weapon'?
It is not easy to answer you and be precise; more than anything else, it is difficult to frame a project without some indication.
However, I can give you some indications regarding the fixed costs and the minimum numbers that need to be managed in order to have an economically sustainable project.
Going into detail on the cost of a single product could, in fact, give you incorrect information. This is due to a failure to identify the type of product and the packaging you want to use.
As you know, there can be products that cost little and others that cost a lot more.
Obviously, if you decide to offer high-end cosmetics, you will be able to reason with a different mark-up on the price you intend to offer your public, recovering part of the investment on the single piece.
CONSISTENCY FIRST.
When creating a new hair care line, it is necessary to carry out initial studies and tests. This is to ensure that your idea and our proposal are coherent and can be combined in a cosmetic.
Many times, some customers have asked for ingredients to be included in the formula which are too special or 'impossible,' and not everything is feasible… (beware of anyone who tells you this).
Drawing up a basic sample that will give you an idea of what you want to achieve, and carrying out microbiological and stability tests on prototypes, generally costs less than a thousand euros.
LESS THAN A THOUSAND EUROS?????
Yes, that's right, because if you really want to create and be successful with a new personalized cosmetic, you have to be sure "a priori" that the cosmetic you will have in your hands will be 100% guaranteed for your public.
Beware of those who do not charge this kind of fee because they may:
Offer you a replica of something they have already made for others, depriving you of exclusivity.
Produce cosmetics with no guarantee… so much for saving money!
Once this obstacle has been overcome, there is a second step:
THE GENESIS OF THE PRODUCT IMAGE
This is also an aspect that is not initially evaluated but is extremely important for the success of any product.
Producing something aesthetically ugly or, worse still, insignificant will certainly give you a hard time, not success…
This is where our partners come in, and if you want to take a look at what we have achieved so far, you too can admire our creations.
YES, BUT HOW MUCH DOES IT COST?
Again, estimating is not easy… but to have a complete service:
graphics,
labels,
cases,
photos
We go back to the figure we gave earlier, i.e., another 1000 euros.
Remember that these are one-off costs that you will not have to pay once the product has been launched.
At this point, we come to the most requested point, i.e. how much does a single customised hair line product cost ready for sale.
The most correct answer I can give you is…IT DEPENDS!
It depends on how it's produced, to link me to what I said earlier.
Registering Your Product on the CPNP (COSMETIC PRODUCT NOTIFICATION PORTAL)
According to Regulation 1223/2009, a cosmetic product on the market must have a P.I.F (product information file).
This is a technical file where all the information about the production, the raw materials used, and the safety of a product is collected.
In order to draw up a P.I.F., a Challenge test is compulsory, i.e. a test that verifies the product's preservative system, and a Safety Assessment, i.e., an analysis of the safety data sheets of each ingredient in the formulation to guarantee that it is not dangerous from a dermatological point of view.
The P.I.F. also establishes who is the PERSON RESPONSIBLE for placing the product on the market, i.e. the person who takes responsibility before the competent authorities for every aspect of a cosmetic preparation.
Once this has been done, a product must be notified to the CPNP (COSMETIC PRODUCT NOTIFICATION PORTAL), a European portal where all cosmetic products are registered.
On this portal, you must enter:
The responsible person.
The formula.
The presence or absence of nano materials or harmful substances (CRM).
The graphics of both the primary and secondary containers.
Photographs of the product itself.
It is also good practice to carry out the PATCH TEST, i.e., the skin irritation test, in order to have further assurance that the product is good.
As you can see, it is complicated to put a cosmetic product on the market and also expensive.
The creation of P.I.F. costs between € 1000.00 and € 2000.00 plus a test.
The first aspect to take into consideration, therefore, is the seriousness of the company to which you turn to create a cosmetic line under your own brand.
The regulations are very strict, and you must make sure that everything I have briefly listed has been done in a workmanlike manner.
The second aspect is economical.
Making a cosmetic line from scratch is very expensive.
"This brings us to the decisive question that you really need to ask yourself if you really want to create a cosmetics line in your own name.
Do you think that using a personalized cosmetics line for your beauty salon in your own establishment could help your business grow, increasing your profit margins on the resale of products for home use and giving your beauty salon more visibility?
Here we come to the second topic of this article, the marketing and branding aspect of your beauty salon.
In fact, as I think you already know, by increasing the visibility and awareness of your brand, you will be able to attract new customers and retain the ones you already have.
Again, I will try to be brief.
I am strongly in favor of the idea that a business must differentiate itself from the competition by offering services and/or products that cannot be found equal by its competitors.
Obviously, this also applies to a beauty salon.