Over time, even a high-quality artificial wig loses its former attractiveness – the ends begin to tangle and delaminate, the volume decreases, and the curls gradually unravel.
Some will not bother and go to the store for a new wig, but most will be puzzled by the question, "how to restore an artificial wig?"
Here is where our article will help you, in which we will tell you in detail, step by step, how to resurrect an artificial hair wig and return it to its former smoothness and attractiveness.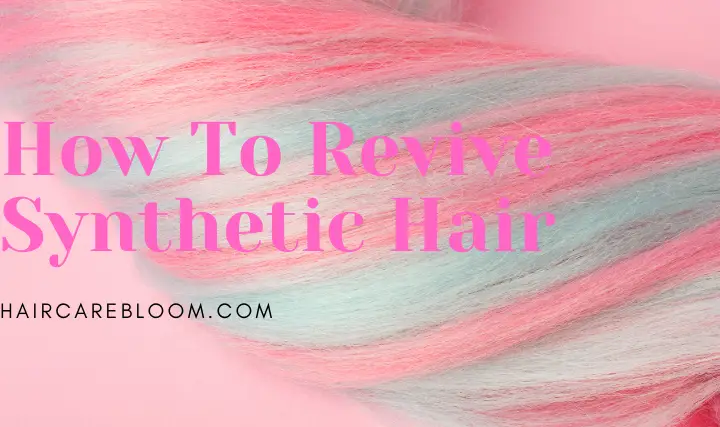 Two key rules for taking care of an artificial wig
A. Don't be lazy
You need to wash your wig as it gets dirty. Professionals advise doing it after 12 uses, but it is better to assess the degree of contamination yourself.
If the curls have lost their original color and a lot of dust and cosmetics have accumulated on them, it is time to start washing.
B. DO NOT overdo it!
Wigs made of kanekalon and modacrylic should not be heat treated because the structure of the fiber is disturbed by high temperatures.
In contrast, thermal fiber models can be dried with a hair dryer, and curled with a curling iron. But you should not overdo it – you should strictly follow the temperature regime and not exceed the temperature specified in the certificate of the product.
How To Restore A Synthetic Wig at Home
Reanimation of artificial hair begins with washing it thoroughly. Before soaking, it is better to comb the strands if there is such a possibility. If they are very tangled, then this procedure should be carried out after washing.
For washing, you will need warm water, preferably boiled or with a spoonful of baking soda. You should add 1-2 tablespoons of shampoo, which is better for dyed hair (it contains less alkali).
Dip the item in the soapy water and leave it for 15-20 minutes. Then leave it to rinse under running water at room temperature. The pressure should be in the direction from the roots to the tips. There is no need to rub the fibers diligently, twist and tug.
To restore the color to your hair, you can apply a tinting balm and then rinse it thoroughly under running water. Lubricate the frizzed ends with hair oil – this will make them softer and more manageable, giving your hair a natural look.
Now mix fabric softener and a little water in a bowl. In this mixture, you should hold the wig for 1-2 hours, and then take it out, squeeze a little, and, without rinsing (this is important), spread it on a dry terry towel to dry.
After 2-3 hours, when the hair is dry, you can start combing. This should be done very gently, moving slowly and carefully. The procedure can take an hour or even two. If there are knots, they can be cut with manicure scissors. The bangs are the last to be brushed.
After the curls are put in order, it is worth shaking the wig, putting it on the head or dummy, and giving the desired shape to the hair.
If the wig is made of Thermo fiber, you can curl it with a curling iron or a thermo-curler. Kanekalon models should not be exposed to high temperatures, but it is not required. These products have a "memory" effect and always return to their original form after being cut.
If the condition of the wig is very bad
In this case, we recommend using a proven method of restoration of artificial hair, the essence of which is a long soaking in conditioner Lenor.
You can also use a cheaper balm or household conditioner for laundry.
So, let's start the reanimation of the wig, which has lost its decent appearance:
Pour Lenor or any other conditioner into a bowl. You can dilute it with 1-2 cups of warm boiled water. Soak the wig in this solution and leave it for 4 hours.
When the time is up, take the product out of the lenor solution and allow it to dry. You don't need to rinse it off! Just put it on a terry towel and leave it alone for a few hours.
When your hair is dry, start the combing process. For this, use a comb with rare teeth. To avoid damaging the curls, divide them into small sections and gently brush, starting from the tips and moving towards the base.
Don't worry; the wig won't smell like Lenore. It will only leave a pleasant smell, no stronger than that of washed laundry.
But it's much quicker and easier to brush and tidy your curls.
If your ends are really tangled and look like a loofah, a pair of scissors can fix it. The ends after such a haircut do not look very aesthetically pleasing, especially if you do not have hairdressing talent. Therefore, we advise you to use a filleting razor. This device is inexpensive, but even without special skills, you will be able to profile the ends and give them a nice neat shape.
It remains only to return the lock's smoothness, and here the paddles or, as a last resort, the standard iron will come to your aid. The main thing is to treat very carefully the wigs made of kanekalon and modacrylic, as these materials are based on algae, and under the influence of high temperature, the fibers will simply be destroyed. You should iron the strands through a thick cotton cloth, at a minimum temperature, without steam.
Before the ironing procedure, be sure to check the reaction of the kanekalon to the set temperature mode. This should be done on the tips, preferably in inconspicuous areas.
After the procedure, the artificial hair will be smooth, get rid of "frizz" at the ends, and get a well-groomed look.
What about natural wigs?
The question "how to restore a natural hair wig?" rarely arises. Such products, although they cost more than artificial ones, last for more than three years without losing their original beauty.
If you properly care for a natural wig – comb it carefully, dry it away from sunlight and heat sources – then complex manipulations to restore it will not be required.
The advantage of natural hair is that you can curl and straighten it as you wish.
To give volume and shape it is allowed to use thermal rollers and curling irons, and if you want to change the color, it is enough to recolor your locks in the desired shade.
Artificial wig for easy care: 5 tips for choosing
1. If there is no time to take care of the wig, then initially choose a darker color palette – black, brown, and chocolate shades. Blond, ash, and red hair get dirty faster.
Curls darken by 2-3 tones and become dull. Too light strands take on a grayish hue and do not look aesthetically pleasing.
2. Cheap, low-quality products are made of synthetic fibers that are much thicker than human hair. Sometimes they resemble a fishing line, and this is immediately evident to others.
Quality wigs are made from modern, high-tech materials – Kanekalon and thermo fiber. Such artificial hair looks as natural as possible.
They are devoid of shine, typical for cheap synthetics, and their care is reduced to regular washing and combing.
3. Pay attention to the base of the wig. The optimal option (in terms of price and quality) is a tress with monofilament inserts.
It is a light transparent mesh in the cells of which the hairs are woven – due to this, it creates the effect of natural hair growth. In such a wig does not form a greenhouse effect, the scalp can breathe freely, and its own locks do not suffer from overheating.
And one more important plus is that you can model any hairstyle, combing hair in different directions, which allows you to hide some shortcomings of artificial hair.
4. The length of artificial hair also plays an important role. It is much easier to care for a short haircut than for long curls.
But with long curls, you can experiment, create complex evening hairstyles, and if you get bored, you can always shorten the hair and make an actual haircut.
5. In a low-quality artificial wig, the color will be monochromatic, and this immediately gives away its "unnatural" origin.
The modern industry allows you to dye artificial fibers in a variety of shades, create an ombré effect, melt, etc.
If you want your hair to be as natural as possible, it is worth choosing models with different shades of hair that are close to the natural color.
How To Take Care of an Artificial Wig
To avoid problems and questions about how to restore the hair of the wig and give them its former smoothness and beauty, it is necessary to learn a few rules from the beginning:
Washing the wig should be regular, using special products or shampoos with low alkali content.
You should not squeeze and twist wet hair after washing – it will cause irreparable damage to its structure.
You can comb only dry strands and do it with a comb with wide teeth or a massage brush.
Do not dry the wig near heaters; hang it on ropes.
Store it on a stand, in a paper box, or in a cotton bag.
Follow the care instructions and recommendations given in this article, and then your wig will please you with its appearance for a long time.