In order for your wig or hairpiece to keep its shine and shape for a long time, you should care for it regularly. Depending on the use, a wig should be washed every 4 to 7 days.
Detailed instructions are basically enclosed with every wig delivered.
The care of a wig is not complicated if you take into account that you use special care products and follow some rules when handling.
The ingredients of the respective shampoos and conditioners are perfectly matched to the needs of the fibers (human hair or synthetic).
When drying, you should definitely avoid wringing the hair.
If possible, please also never comb wet hair! We have summarized all the important steps and instructions for you gladly here:
Read: How To Clean Lace Frontal Sew in While Installed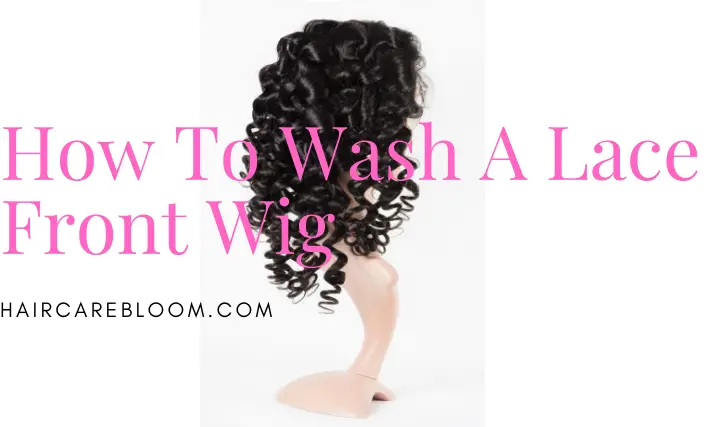 CARE INSTRUCTIONS FOR WIGS AND HAIRPIECES MADE OF SYNTHETIC FIBERS
Synthetic hair wigs, also known as synthetic hair, are characterized by the fact that they are particularly easy to care for.
Second hair made of synthetic fibers is very durable and keeps its shape very well.
Nevertheless, there are a number of things you should pay attention to in order to enjoy your new look for a long time.
The care of synthetic hair differs from that of natural hair or even a human hair wig.
There are special care products for them, which are optimally adapted to the needs of the synthetic material.
An artificial hair wig returns to its original shape all by itself when dry.
With these simple tips for the care and handling of your synthetic wig, you will maintain the long-lasting shine, suppleness, and perfect shape of your new hairstyle.
HOW TO KEEP THE LOOK OF YOUR SYNTHETIC WIG EXTRA LONG IN TOP SHAPE
Wash your synthetic hair wig regularly, but not too often, in cold or lukewarm water.
To care for your synthetic hair, use only care products designed for synthetic fibers.
Allow your wig to air dry after washing.
Style and style your synthetic hair wig only when it is dry.
Use only coarse-toothed combs to comb the straight synthetic hair.
Carefully untangle hair knots with your fingers instead of using brushes or combs.
PROTECT YOUR SYNTHETIC WIG FROM THESE INFLUENCES
Never wash your wig in hot water.
Protect your synthetic hair wig from high heat and from steam.
Protect your wig from strong friction (e.g. from pillows).
Do not comb or style your synthetic hair wig while it is wet.
Try not to style synthetic hair with heat-emitting appliances such as a hair dryer, curling irons or drying hoods.
Do not use strong setting styling products such as hair gel, lacquer or spray.
You can style straight synthetic hair with coarse-toothed combs. Do not style curly wigs with brushes or combs.
How To Wash and Care For Your Lace Front Wig
How often you should wash your wig depends on how often you wear it.
As an approximate rule of thumb, a synthetic hair wig that is worn for 10-12 hours a day should be washed about every 4 to 7 days.
If you wear your wig less frequently or alternate different models, then you can clean the synthetic hair less frequently accordingly.
Process Of Washing
Place your wig in a bowl of lukewarm water and add some special shampoo to protect and care for synthetic hair.
As a rule of thumb, use about one capful of special shampoo to one liter of water.
Please do not use hair shampoo for natural hair.
The ingredients of classic hair shampoo are not suitable for synthetic fibers.
Leave the shampoo on for about 15 minutes. To do this, simply leave the wig in the water bath without moving it.
The solution of the special shampoo has a self-cleaning effect, which unfolds in the water bath.
Important: Do not rub or wring the wig in the water bath!
After fifteen minutes, remove the wig from the water bath.
To do this, you can gently move it in the water for a short moment.
Rinse the synthetic hair with cold water before you put your wig immediately into a second care bath.
Put the wig together with some artificial hair balm into a new, fresh bath of cold water and let it soak again.
This time, a shorter soaking time of about 5-10 minutes is quite sufficient.
Also, when washing with balm, the wig does not need to be moved, but you can gently and carefully work the solution into the hair with your fingertips so that the protective balm reaches the deeper layers of hair.
Rinse the synthetic hair wig again under cold water. To dry the wig, just dab it with a towel under light pressure.
Never rub, wring or comb the synthetic hair when it is wet! After dabbing with the towel, please put the wig directly on a wig stand.
There you simply let the synthetic hair air dry. Our synthetic wigs are "ready to go".
The wig will shape itself during the drying process.
Care Cycle
The last thing we recommend is a care cycle with a synthetic conditioner.
The care conditioner, especially for synthetic hair, is a spray.
Spray it evenly into the lengths and tips of your dry wig.
The conditioner puts a protective film around the synthetic hair and protects it from tangling as well as from becoming brittle.
The special conditioner keeps the hair supple and retains its shiny look.
CARE INSTRUCTIONS FOR WIGS AND HAIRPIECES MADE OF REAL HAIR OR PRIME HAIR
Wigs or hairpieces made of human hair and prime hair must be regularly cared for and styled so that you can enjoy them for a long time.
With proper care, a wearing time of one year to two years is not uncommon.
For washing and care, you have to plan some time, but for this, you have the great advantage that your look is flexible in styling; this is even possible or even recommended with straighteners, blow dryers or curling irons.
HOW TO WASH AND CARE FOR REAL HAIR AND PRIME HAIR OPTIMALLY
First, please place the wig or hairpiece on a styrofoam head and carefully fix it with pins.
Do not pierce the film base or the monofilament fabric! Before washing, carefully comb through hair knots and styling residues (e.g., hair spray) with a suitable brush or wide-angled comb.
Moisten the hair in the direction of fall from the roots to the tips under lukewarm running water (do not place in a water bath).
Carefully brush a hazelnut-sized amount of Shampoo Human Hair into damp hair with your hands and leave on for about 5 minutes. Please do not rub or wring!
Rinse the human hair wig or hairpiece in the direction of fall under lukewarm running water until no shampoo residue remains.
Then repeat the process with Balsam Human Hair. If your human hair wig is very stressed, we recommend Intensive Recovery Mask instead of the balm. It regenerates the hair, protects, and provides long-lasting moisture.
Gently wipe out the excess water from top to bottom and dab the wig or hairpiece with a towel, and let it dry for a few minutes. Now you can blow dry and style your human hair wig as desired.
Conclusion
Today, we will find many different full lace wigs on the market. Here are some things you can do to make your full lace wig look more natural.
1. Press the hairline
The full lace wig can create a natural hairline. Unfortunately, however, some manufacturers add too much hair to the hairline, which gives the wig an unnatural look when the natural hair increases in density. In this situation, you have two options.
You can go to a professional lace wig maker or store to change the density of your human hair wig. They can adjust the density as much as possible. Of course, you will have to pay high fees. But you will get the best results.
Alternatively, you can tweeze the hairline yourself to the desired density.
Brush all the hair back into the lace wig and put it in a ponytail so you can see the hairline better without extra hair getting in the way.
Strand by strand in the first row of the lace.
Tweeze alternating rows so you don't brush a section.
Keep trying on the wig to see if the density is at your desired level or not.
Go slowly and check your progress as over tweezi.
You can't replace it yourself once the hair is removed.
2. wash with apple cider vinegar
Usually, synthetic lace wigs have a shine and indicate to everyone that it is a wigs.
If you have human or synthetic lace wigs, you should choose this conditioner because apple cider vinegar will remove the shine, soften the hair and clean gently.
Mix 1 tablespoon of apple cider vinegar with 1 cup of water, and then use this mixture to wash your lace wig.
You need to add 8 tablespoons of apple cider vinegar when you wash your wig in a bowl with 8 cups of water.
The acid in vinegar breaks down the dirt from styling products in the wig but does not soften the hair.
The natural acid and enzymes in apples will not only soften the hair but also eliminate the shine of your full lace wig.
3. brush with baking soda
Brush your lace wig with a light fizz of baking soda after it dries.
Put a teaspoon of baking soda on the brush.
Brush evenly and thoroughly through the lace wig so that the shine is the same everywhere.
If you're on the go, baking soda is also a great way to quickly remove shine from your full lace wig.
Sprayed too much wig shine? Forgot to wash your lace wig? Have you ever experienced this problem? Now don't worry about it.
You can simply brush through with the baking soda to get quick and effective results.