Washing extensions – tips on how to properly care for your hair extensions
Just like your human hair, extensions need the right care! Since hair extensions are not connected to the scalp and consequently do not receive nutrients through it, proper care for hair extensions is perhaps even a bit more important.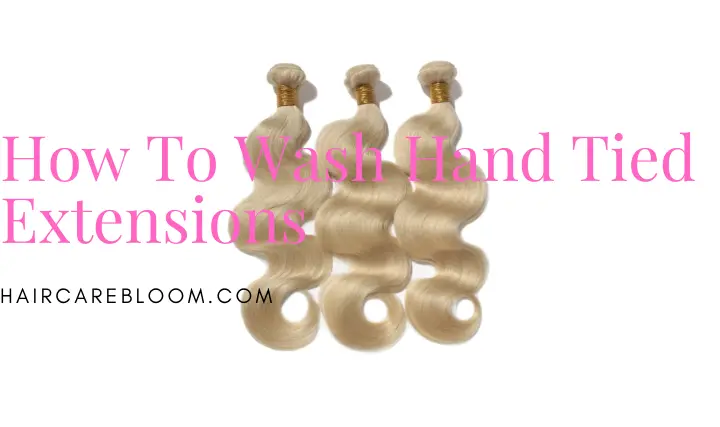 In our guide, we explain how to properly wash your extensions, such as Tape IT or Clip IN, so that the quality of your hair extensions is maintained for as long as possible.
We assume that you have chosen Remy human hair extensions and do not wear synthetic hair extensions. Accordingly, our tips are based on human hair extensions.
Regular care and the use of care products that have been specially developed for extensions, such as Tape IT adhesive braids or bindings, are important.
Read: How To Wash Bonded Hair Extensions
The right care products for your extensions
In the drugstore, you can buy shampoos and other care products at very reasonable prices for your hair extensions. You may wonder if these are not enough and if you can save money here.
After all, you have already invested quite a lot in your hair extensions.
Unfortunately, no, you should not save on the care products, because in the end, you pay twice.
Extensions that suffer from low-quality silicones, oils, and alcohol, which are contained in some shampoos, for example, do not stay beautiful for long and have to be removed much faster.
So abandon cheap products from the drugstore and opt for high-quality care products that have been specially developed for hair extensions.
Necessary is a shampoo, a fluid for your tips, and a cure. In addition, you can pamper your extensions and your own hair with argan oil.
You can order all the necessary care products for great hair in our online store.
The technique of washing your hair
Washing your hair over your head is an absolute no-go. No more washing your hair over the bathtub or sink.
You should only wash your hair standing up, preferably in the shower, and just as often as you wash your own hair. Before washing your hair, comb it well with an extension brush.
By brushing, you remove small knots and free your hair from loose hairs.
Positive side effect: Your hair will look much healthier and more beautiful. Now rinse your hair well with water and then shampoo it.
It's best to start at the roots and then work your way down to the tips, piece by piece.
Avoid rubbing the shampoo into your hair so as not to stress it unnecessarily. Distribute the shampoo very gently in your hair.
Finally, rinse your hair thoroughly. Now wrap a towel around your head and let your hair dry for a few minutes.
Rubbing with the towel is a no-go. Before combing or brushing, first, sort your hair with your fingers and brush it starting from the bottom.
Blow drying your hand-tied hair extensions
After washing, you should at least blow dry your roots. Air drying is, of course, much gentler than using a hair dryer, but your wet hair plus the extensions are also much heavier than when dry.
Therefore, air drying would stress your own hair roots, and it would take a very long time at the connection points until they are really completely dry.
Blow dry your hair at the lowest possible temperature. Note that too much heat can damage the connection points of your extensions and dry out your hair extensions. A maximum of 180° C is recommended.
Use a heat protector for the ends and lengths of your hair.
After blow drying, comb your hair again with an extension brush and additionally sort it lightly with your fingers. Hold your hair at the roots.
This way, you reduce the pull that triggers the brushing and protects your bondings at the same time.
The final styling of your Remy human hair extensions
When styling your hair extensions, there are basically no limits. You can use a straightening iron or a curling iron to create the most amazing hairstyles.
However, make sure that the temperatures are low enough to protect your extensions and the connection points.
Use a heat protection product that will keep your hair and extensions from drying out.
Also, make sure that straighteners and curling irons do not come into contact with the connection points.
The heat emitted by the device can damage them and possibly cause them to melt.
In the worst-case scenario, your extensions will no longer be reliably incorporated into your hair and could possibly fall out.
For the styling products that you use for your Remy human hair extensions, the same actually applies as we have already explained to you with the care products.
Go for quality and not for a low price.
Pamper and care for your hair extensions with special hair extensions care products, and they will thank you for long durability and radiant shine.
Take a look at our online store. Here you will find everything about the right care and styling of your hair extensions – from extension brushes to heat protection sprays to conditioners; you will find everything you need for your dream of beautiful hair.
Frequently Asked Questions About Hair Extension Management. (FAQs)
WHEN AND HOW SHOULD HAIR EXTENSIONS BE BRUSHED?
Hair extensions should be brushed several times a day to prevent knots and to tangle.
Brush the ends first and then the lengths without pulling or forcing.
ONLY use the special BRUSH, which is SPECIFICALLY FOR EXTENSIONS. NEVER use a comb of any kind.
If the hair is dirty, hold the strand or strip you are combing at the base with your hand. Always brush the extensions before and after shampooing.
WHEN SHOULD THE HAIR EXTENSIONS BE WASHED?
Hair should be washed as often as before. The hair extensions should be kept clean and washed as needed.
HOW SHOULD THE HAIR BE WASHED?
Before washing the hair, brush the hair extensions carefully to remove any knots.
Wet the hair and APPLY SHAMPOO TO THE HEAD – NEVER TO THE LENGTHS – and run your fingers from forehead to nape of the neck, NEVER IN A CIRCLE through the hair.
NEVER RUB THE LENGTHS OR ENDS. INFORM YOUR CO-WORKERS. NEVER wash your hair HEAD DOWN. Comb and smooth hair extensions with your hands. Rinse thoroughly.
Always apply conditioner (see next point) and then brush carefully.
It is important to explain the above to your client so that she doesn't make mistakes and compromise your work with the first wash.
WHEN SHOULD THE CONDITIONER BE APPLIED? AND THE MASK?
AFTER EVERY SHAMPOO, it is important to apply conditioner, especially to the ends. The movements to be made are the same as those described for shampooing.
In particular, use your hands like a comb to spread the product from root to tip.
Leave on for 3-4 minutes and rinse thoroughly. Use your towel to blot up the water.
Do not twist or rub your hair. ONCE A WEEK SHOULD BE APPLIED THE MASK.
Follow the same procedure, but increase the application time (10 minutes).
It is important to explain the above to your Client so that she takes good care of her hair and does not make mistakes.
WHAT PRODUCTS SHOULD BE USED? WHICH ONES SHOULD BE AVOIDED?
Use specific shampoos, conditioners and masks for hair extensions or, failing that, shampoos, conditioners, and masks for colored hair (with acid ph and without alcohol).
Moisturizing and nourishing shampoos, conditioners, and masks may also be indicated.
IMPORTANT: IT IS EXCELLENT AND TO BE ADVISED TO THE CUSTOMER FOR USE EVERY DAY on lengths and tips, even several times a day; THE "DROPS" BASED ON SILICON AND SPRAY CONDITIONING / POLISHING, able to moisturize and nourish the hair.
Daily use of these products will greatly extend the life and beauty of your extensions.
NEVER USE GELS, GAS LACQUERS OR OTHER STYLING PRODUCTS. Advise your client on the most suitable products.
AFTER WASHING, HOW SHOULD I DRY MY HAIR?
It is best to blow dry the extensions at the base of the hair, keeping a minimum distance between the hair dryer and the extensions of at least 15 cm (you may overheat the connectors), and let the lengths and ends air dry.
This applies especially to the maintenance of the client at home.
On the other hand, it is better to avoid gathering wet or damp hair inside a towel (turban type).
This would create a damp pack that would be detrimental to the good hold of the extensions.