What it is: Ryo Hair Loss Care Treatment
RYO Hair loss Care is a Hair treatment containing ginseng extract focusing on root strengthening, deep nourishing, and healthier hair.
It combines the potency of the whole Korean Ginseng Plant & Plant-derived Caffeine to fortify & strengthen hair roots.
It contains ginseng and red ginseng for root strengthening and root nourishing, also contains houttuynia cordata extract, which can help with scalp firmness, and mint extract to help control oils.
Their products can contain a wide range of ingredients which include:
Water, Sorbitol, Dipropylene Glycol, Dimethicone, Cetyl Alcohol, Stearyl Alcohol, Stearamidopropyldimethylamine, Glutamic acid, Xylitol, Panthenol, Shea Butter, Fragrance, Zinc Pyrithione, Hydroxyethyl Cellulose, Caprylyl Glycol, Salicylic Acid, Menthol, Ethanol, Dextrin, Theobroma Cacao (Cocoa) Extract, Disodium EDTA, Ethylhexylglycerin, Butylene Glycol, Sodium Polynaphthalene Sulfonate, Camellia Oil, Scutellaria Baicalensis Root Extract, Houttuynia Cordata Extract, Red Ginseng Extract, Hydrolyzed Corn Starch, Glycyrrhiza Glabra (Licorice) Root Extract, Pinus Sylvestris Leaf Extract, Camellia Sinensis Leaf Extract, Panax Ginseng Root Extract, Cellulose Gum, Cnidium Officinale Root Extract, Zingiber Officinale (Ginger) Root Extract, Phenoxyethanol, Mentha Arvensis Extract, Tocopherol, Benzyl Benzoate, Butylphenyl Methylpropional, Alpha-Isomethyl Ionone, Linalool, Limonene, Hexyl Cinnamal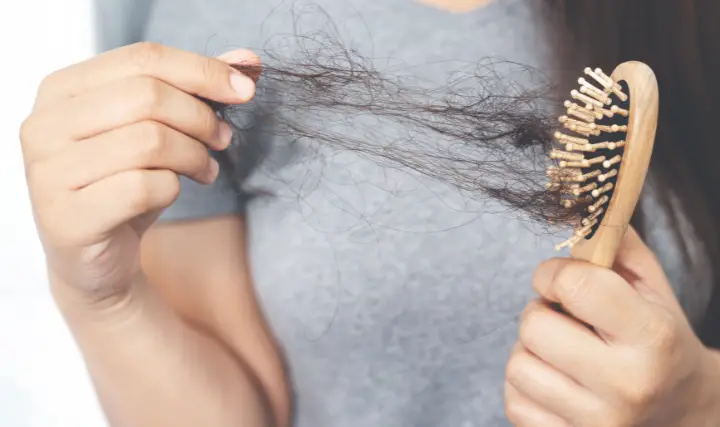 Great for fine and thinning hair! If you have thinning and fine hair. After using this (and the shampoo for this brand/line), your hair loss has been cut by half.
Try keeping your hair in little balls in the shower daily to see how much hair you lose.
Hair thinning that chugs along reaching menopause have been shown to be a common cause of depression in women.
It has made many women try different products and treatments, paying doctors and experts all over the world, wasting a lot of money just to fix their hair with little or no results.
RYO HAIR LOSS TREATMENT is the solution you've been looking for. It's a must-try!
Other causes of hair loss include:
Hereditary hair loss with age is the most common cause of baldness.
In men, it's called male pattern hair loss. Women get female pattern hair loss. Regardless of whether it develops in a man or woman, the medical term is androgenic alopecia.
No matter which term you use, it means that you've inherited genes that cause your hair follicles (what each hair grows out of) to shrink and eventually stop growing hair.
Shrinking can begin as early as your teens, but it usually starts later in life.
In women, the first noticeable sign of hereditary hair loss is usually overall thinning or a widening part.
When a man has hereditary hair loss, the first sign is often a receding hairline or bald spot at the top of his head.
Is regrowth possible?
Yes, treatment can help stop or slow hair loss. It may also help regrow hair. The earlier treatment is started, the better it works. Without treatment, you will continue to lose hair.
 Hair loss can be a side effect of certain drugs, such as those used for cancer, depression, and high blood pressure.
If you receive chemotherapy or have radiation treatment to your head or neck, you may lose all (or most of) your hair within a few weeks of starting treatment.
Wearing a cooling cap before, during, and after each chemotherapy session may help prevent hair loss.
You can also experience hair loss after a stressful time in your life, such as a divorce or death of a loved one.
Is regrowth possible?
Hair usually starts to regrow within months of finishing chemotherapy or radiation treatments to the head or neck. Dermatologists can offer medication to help hair grow back more quickly
Hair loss can appear in many different ways, depending on what's causing it. It can come on suddenly or gradually and affect just your scalp or your whole body.
Childbirth, or illness.
A few months after giving birth, recovering from an illness, or having an operation, you may notice a lot more hairs in your brush or on your pillow.
Hair care
If you color, perm, or relax your hair, you could be damaging your hair. Over time, this damage can lead to hair loss.
Is regrowth possible?
You can change how you care for your hair, which can prevent hair loss. Once you damage a hair follicle, hair cannot grow from that follicle.
Having many damaged hair follicles creates permanent bald spots.
Hormonal imbalance
A common cause of this imbalance is polycystic ovary syndrome (PCOS). It leads to cysts on a woman's ovaries, along with other signs and symptoms, which can include hair loss.
Stopping some types of birth control pills can cause a temporary hormonal imbalance.
Women who develop a hormonal imbalance can develop thinning hair (or hair loss) on their scalp.
Is regrowth possible?
Treatment may help.
Signs and symptoms of hair loss may include:
Sudden loosening of hair caused by physical or emotional shock. Handfuls of hair may come out when combing or washing your hair or even after gentle tugging. This type of hair loss usually causes overall hair thinning but is temporary.
Full-body hair loss is caused by conditions and medical treatments, such as chemotherapy for cancer. It can result in the loss of hair all over your body. The hair usually grows back.
Gradual thinning on the top of the head is the most common type of hair loss, affecting people as they age. In men, hair often begins to recede at the hairline on the forehead. Women typically have a broadening of the part in their hair. An increasingly common hair loss pattern in older women is a receding hairline (frontal fibrosing alopecia).
Some people lose hair in circular or patchy bald spots on the scalp, beard, or eyebrows. Your skin may become itchy or painful before the hair falls out.
Hair loss makes patients feel self-conscious, so it is not surprising that people regularly search for affordable and effective hair loss treatments to restore a fuller hairline.
IS RYO HAIR CARE GOOD FOR HAIR LOSS?
This Korean herbal medicinal ingredients infused shampoo helps to relieve symptoms of hair loss, strengthen weakened hair roots as well as to soothe irritated scalp.
Can I use this product in place of a conditioner?
You may use this product in place of a conditioner. To use with a conditioner, it is recommended to apply after shampoo and before conditioner.
HOW TO USE RYO HAIR CARE FOR HAIR LOSS TREATMENT
Direction for Use:
Recommended for use daily
Wet your hair and scalp thoroughly with sufficient amounts of water.
Apply the appropriate amount thoroughly from root to scalp to the end of the hair
Leave on for a while
Rinse off with warm water after 2~3 minutes.
PRECAUTIONS:
If you have any adverse reactions when using this product, stop using the product immediately.
If it contacts with eyes, rinse with running water immediately
Do not use on spots with injury, eczema, or dermatitis
Keep product away from direct sunlight and from extreme temperatures
Keep product away from reach of infants and children
For external use only
If you accidentally spill this product, wipe it clean immediately as this product is very slippery.
This product has passed all dermatological tests and is verified as having zero skin irritation.