One of the most frequently asked questions that people ask after buying a wig is: "How do I wash it?"
Washing a wig is not difficult, just follow a few steps that vary depending on the type of wig, synthetic or real hair. Washing your wig well is essential to ensure a better appearance and make it last longer over time.
A question that is however not common on big platforms such as beauty blogs, neither is it popular in small scale markets such as wig shops is the question; "why should I wash my wig."
It becomes an immediate obligation of utmost importance in this article to stress the need to wash your wig.
Why Wash Your Wig With Fabric Softener?
Many people wash their wigs as frequently as 3 to 4 times in a month because it feels normal to maintain whatever you have or because of noticeable changes taking place on the wig.
For instance, If you wear a synthetic wig too long without washing it, it will look old and dingy.
After using synthetic wigs a couple of times, your wigs become dull. You can see that your synthetic wig is lifeless, tangled, and over-sprayed by looking at your wig.
Your likely reaction in this situation is not to use that wig again. But your inner feeling would most likely be I spent a lot of money on this wig, if I wash it carefully you can use your wig again to revive and give it that lively, beautiful look once more.
Nowadays that wigs are an important accessory to most people, the need to provide some insight and shed reasonable voltage of light into the wig industry, educating people on the necessity of regular maintenance becomes pressing.
This guide is a body of work designed specifically to enlighten wig lovers about some of the important things they need to know about washing their wigs and taking a look at 'washing a wig with fabric softener' as a case study.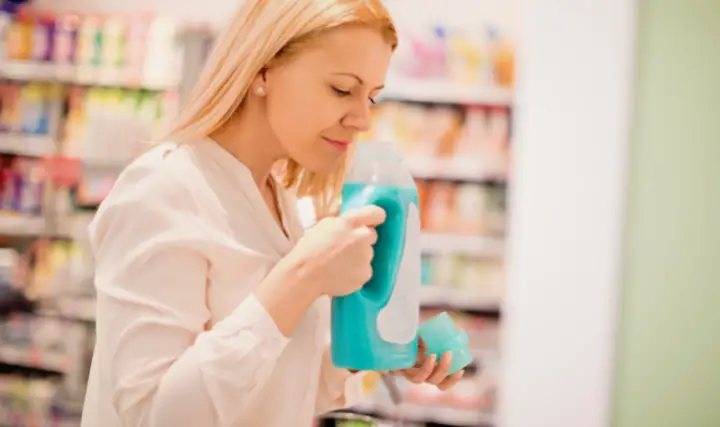 How often should a wig be washed?
There is no one-size-fits-all answer to this question: it depends on how much you wear it during the day and your lifestyle. Generally, you should wash your wig about every 6-8 weeks or 7-10 wears.
Although many people who wear synthetic wigs daily suggest that this routine is most favorable in cool weather. So you need to wash your wig more frequently in hot weather.
What products to use?
To wash a wig, synthetic fiber or natural hair, you must use ONLY specific products. This is because: The real hair wigs are made with natural hair, but they do not receive nourishment from the scalp.
For this reason it is necessary to use products that are more nourishing than common shampoo and conditioner.
Synthetic fiber wigs are ruined if they come into contact with alcohol or fragrances contained in normal products. Better to choose delicate products with neutral PH.
Read: How To Treat Human Hair Wigs At Home
How to wash and dry a wig
The washing phase varies depending on whether the wig is in synthetic fiber or natural hair. For the latter type it is advisable to take more precautions.
How to wash a synthetic wig
-Brush the hair carefully to eliminate the knots or tangles that have been formed.
Brushing hack: Do not brush hair unless it is dry. If the wig is very curly, do not brush it, but rather use a wide-tooth comb or your fingers.
-Fill a basin with cold water.
-Immerse the wig in the bowl and shake gently without rubbing or scrubbing.
-Let the wig soak for 5-10 minutes with a mild shampoo.
-Shake for a minute and rinse in clean water.
If the wig has traces of makeup or is dirty along the hairline, use a toothbrush to gently remove the residue.
-Place the wig on the wig head and let it dry at room temperature. DO NOT use a hair dryer, unless the fiber is "heat resistant"
-Avoid exposing the hair to too much heat as it may be damaged.
-Once the hair is completely dry we recommend shaking the wig by hand. You can then proceed with the desired combing through the use of a wide tooth comb.
Please note: In the case of handmade synthetic wigs or wigs that are longer than shoulder length and therefore more delicate, it is best to follow the washing procedure used for real hair.
How to wash a real hair wig
-Comb your wig with a specific brush to remove any knots. We recommend a brush with mixed curl (boar bristles + thin plastic teeth), suitable for natural hair. Comb gently starting from the tips, going higher and higher up to the roots.
-Place the wig on your head.(Do not immerse the wig in a basin for washing, it helps to avoid the 'inversion of the hair in the cap in handmade wigs).
-AVOID using tacks on the lace front (tulle film front), if present, and on the polyurethane tabs for adhesive or silicone.
-Once the wig or toupee is attached to the head, wet it with warm water by running the water along the natural direction of the hair, from roots to ends.
-Distribute a little shampoo into the hair, starting from the top down.
-Use a high-quality, sulfate- and paraben-free, nutrient-rich shampoo such as our PLUS 12 with 12 organically grown extracts.
-Squeeze hair strand by strand until you create lather.
-DO NOT use circular motions if the wig has hair with intact cuticles.
-Rinse hair thoroughly with a stream of water from the swirl to the ends to remove any shampoo residue.
-Apply a dose of conditioner along the length of the hair, from the top to the ends, but avoiding the roots, where there are knots. The conditioner, in fact, could loosen them.
-Distribute the conditioner strand by strand.
Rinse hair thoroughly with a stream of water from the swirl to the ends to remove any residual conditioner.
-Wrap your wig in a towel, without rubbing. Next, comb as explained in step 1, from the tips to the roots.
-Finally, dry the wig and prepare the desired style.
Every 4-5 washes we recommend the application of a restructuring mask.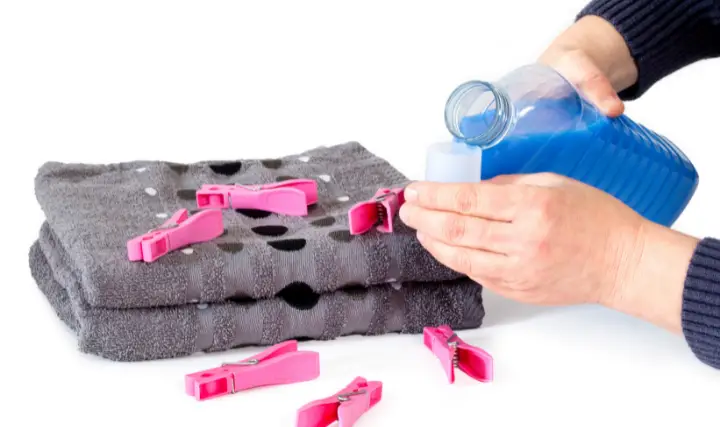 How To Wash A Synthetic Wig With Fabric Softener
For synthetic wigs, fabric softener is like an effective conditioner because fabric softener can revive even the wig's smallest stiffs. You can see the differences on your own after washing your synthetic wig. There are two renowned methods of washing your wig with a fabric softener.
Method 1
Materials needed:
150 mL Fabric softener
80 mL of liquid dish wash/detergent
240mL cold water
First step:
Prepare the mixture: In a medium-size bowl, put150mL of softener, 80 mL of liquid dish wash, 240mL of cold water in it. Then stir it gradually. Make sure all the materials combine properly.
Second step:
If your wig is tangled, brush it with a paddle comb. After that, put your synthetic wig into that mixing bowl and leave it for at least two hours. In case your wig is very much stiff, leave it in the mixture overnight.
Step 3:
Rinse it until the wig runs clean, rinse it off with cold water.
Step 4:
Take the Moisture By using a cotton towel, take all the moisture from your wig. Don't rub your wig. After taking all the moisture out of your wig, leave it on a hook or a coat stand to dry. Next, brush your wig thoroughly. Now you are good to use it once again.
Method 2:
Materials Needed:
1 cup (240mL) of fabric softener
1 cup (240mL) of cold water
Spray bottle
First start by checking out if your wig is tangled or not and brush it before you start the procedure.
Step 1: Prepare The Mixture:
Pour 240mL of fabric softener and 240mL of cold water into a spray bottle. After that, screw the spray bottle tightly and shake it to combine the liquids perfectly.
Step 2: Spray The Mixture at Your Wig
As I mentioned earlier, that fabric softener is a leave-in conditioner, so it gives moisture to your synthetic wig and makes them soft, shiny, and smooth.
Spray at the wig's top layer until the wig is soaking with the softener mixture and dripping it off. Next, lift the top layer of your wig and spray underneath. You can do this process by spraying underneath first and then spray at the top of your wig.
Step 3: Dab
Don't ever rub your precious synthetic wig with a towel, cloth, or anything. It can damage the fibers of your wig. Instead of rubbing to absorb the excessive liquid, dab your wig with a cotton towel lightly. It will absorb every drop of water smoothly without damaging your hair. You don't have to worry if the wig is still dry. Leave it overnight; it will dry eventually.
Step 4: Leave The Wig on A Coat Stand Overnight to Dry:
Place the wig on a coat stand and leave it for 6-10 hours to dry. You can also leave it until it is completely dried. Could you not put it on your head until it dry?
Step 5: Brush it with A Paddle Brush
After drying your synthetic wig, brush it using a paddle brush. This will help to remove knots slightly, looking the hair smooth.
One important technique not to take off a lot of hair while brushing your hair is that start brushing at the root of your wig and brushing down gradually at the end of your synthetic wig.