Fanola No Orange Shampoo prevents unwanted brass and orange tones. It gently cleanses and neutralizes unwanted copper/red tones in dark color-treated hair.
In addition, it mattifies, detangles, and adds shine, hydration, and softness.
Fanola No Orange Shampoo is formulated with coconut oil to add shine and prevent breakage and split ends.
It also contains hypoallergenic Tiare flowers to nourish and seal hair cuticles.
Its formula is enriched with Corallina Officinalis and Monoi milk extracts. It also has a special highly concentrated marine pigment to eliminate highlights.
If you're looking for icy blonde vibes or intense brown tones without bronze or orange, Fanola's No Orange Shampoo is what you need.
It's formulated with a rich blue pigment that cancels out unwanted orange, red, and copper tones in the hair.
Ideal for brunettes, dark blonde, high blonde, and warm tones.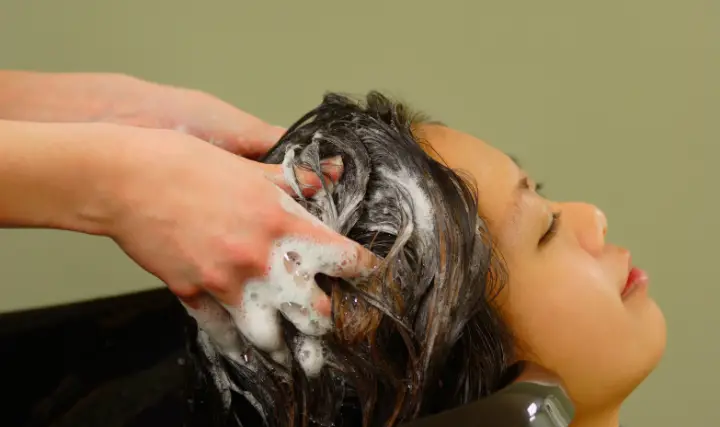 Method to use
Apply No Orange Shampoo by Fanola on wet hair, massage and leave on for 1 to 5 minutes, lather and rinse.
Wear gloves to avoid staining your hands.
It can be used once a week or every three washes to help with unwanted copper or red highlights.
No Yellow vs. No Orange Fanola
We thought it was about time we explained No Yellow and No Orange in more detail, what do you guys think? These silver shampoos help our blondes and brunettes neutralize unwanted color tones.
Without too much effort, the No Yellow and No Orange Fanola products create a fresh, cool hue. But what are the differences? And which one suits you best? Time to dive deeper into this!
In this section of the blog we will mainly explain the differences between the Fanola No Yellow and No Orange.
But of course there are more good silver shampoos! Like the More Haircare Silver Shampoo, mega powerful and great results! Or the Fudge Clean Blondes. Scroll quickly to find out which silver shampoo suits you best!
No Yellow vs. the No Orange
We start with a handy overview, so you can see different specifications of the Fanola No Yellow and No Orange side by side:
No Yellow No Orange
Nickname: Purple Shampoo Blue Shampoo
Neutralizes: Yellow tones Orange/red/copper tones
Pigment: Violet pigment Blue and violet pigment
Hair Type: Blondes (8.5 and above) Brunettes (7.5-8.5)
Also suitable for:  Highlights, gray hair Dark blonde hair
Shelf life: Up to 8 washes
Can be used as a pre-toner: Yes
Effect on your hair:     Cool Cool
Use gloves:     Yes
pH level 5.0-5.2 5.0-5.5
Substance: Thick and gel-like Thick and gel-like
 Can my hair turn purple from the Fanola Shampoo?
If you follow the instructions for use, you can hardly go wrong. However, your hair can get a purple glow if the condition of your hair is not optimal.
It also depends on your hair color. If you have light blond hair, it is recommended not to let the Fanola Shampoo soak in longer than 2 minutes.
Light blond or bleached hair is more porous and the pigments can easily penetrate into your hair.
In any case, never leave the No Yellow and No Orange Fanola Shampoo on longer than 5 minutes!
My hair has turned purple … how do I solve this?
Oh no… let it soak in a little too long and now you're stuck with a purple glow? No worries! You can always get it out again.
Usually washing your hair with a 'normal' shampoo is enough. Is the purple glow still not gone? Try washing it a few more times.
It sometimes helps to use an anti-dandruff shampoo, this shampoo is more aggressive but can make the purple glow go away from your hair. Be careful with intensive use, it can make your hair dry.
Notice how your hair is sensitive and reacts violently to the pigments? You can also mix the No Yellow or No Orange shampoo with the Fanola Nutri Care Shampoo. This makes the effect of the purple and blue pigments slightly less intense.
Can I create a purple hue with the No Orange Fanola Shampoo?
Although we are mainly talking about preventing a purple tint, you may also find that this is a great hair color that you want to rock! We are all for it, so use the No Orange Fanola Shampoo to create this look.
To avoid too intense a result, you could let the shampoo soak in a little longer, but 5 minutes is really the max! You can also try to use the shampoo more often, but do not forget to use a nourishing conditioner.
The shampoo contains few nourishing ingredients, so your hair can become drier. A conditioner catches this problem well!
Still not the desired result? You can apply the shampoo to towel-dried hair and leave it on a bit longer than advised (1 minute). Because your hair is a bit drier, the pigment can take better.
Both shampoos do not neutralize the desired colors from my hair, what can I do?
We are totally fans of Fanola, because these silver shampoos work! But you still do not achieve the desired result? Then you can try the following:
We recommend that you always follow the instructions. Does it say that you have to let the product soak in for 1 minute? Then also rinse it out after one minute.
However, especially if your original hair color is somewhat darker, it is possible that the shampoo will not completely remove unwanted colors from your hair.
Try leaving the product on a little longer, for example one minute longer to see what effect this has.
Did this not work? Then let the silver shampoo soak in on towel-dried hair.
Water is actually very important to spread the ingredients from the Fanola Shampoo properly, but it can also serve as a barrier between your hair and the pigment.
So remove the excess water from your hair so the pigment can get into your hair better. Please note: the pigment is much more "intense" on dry hair, so your hair can get a purple glow.
How do I use the No Yellow Shampoo?
Apply a small amount of Fanola silver shampoo to wet hair and massage it well through your hair. Allow the shampoo to soak in for 30-60 seconds and then rinse it out.
For the best and most caring results, use the concluding Fanola Nutri Care Conditioner.
Please note that the shampoo contains almost no nutrients that nourish your hair. We therefore do not recommend using the No Yellow Shampoo on a daily basis.
If you do not use any other hair care products, the chance of a purple glow is therefore greater. If you combine it well with the right, nurturing products there is no max when using this shampoo.
How To Apply Fanola No Orange Shampoo
Apply a small amount of Fanola No Orange shampoo to wet hair. Gently massage the shampoo into your hair and let it foam up well. Then rinse the shampoo out with warm water.
Use after the shampoo the Fanola No Orange Mask for best results!
Note, the shampoo contains almost no nutrition that your hair care.
We do not recommend using No Orange Shampoo on a daily basis. If you do not use other hair care products, the chance of a purple glow is greater.
If you combine it well with the right, nurturing products there is no max when using this shampoo.
Conclusion
All Fanola products can be found here: Fanola. Scroll down for even more information on the entire Fanola line. Curious about the No Yellow shampoo and No Orange shampoo?
Then click on the link and check out our extensive product descriptions to learn even more about them.