No matter how high quality and expensive a wig is, sooner or later, there comes the hour X when you have to make a decision – to reanimate the artificial hair or go to the store for a new accessory.
We have prepared this article for those who are not looking for easy ways and are ready to fight for the beauty of their wig and its many years of service.
So, how to fix a wig at home? According to experts, who often face the need to "revive" the artificial curls after curling irons, irons, improper care.
Therefore, keep this article in your bookmarks so as not to lose it and have a clear plan of action at hand.
Read: How To Clean Lace Frontal Sew in While Installed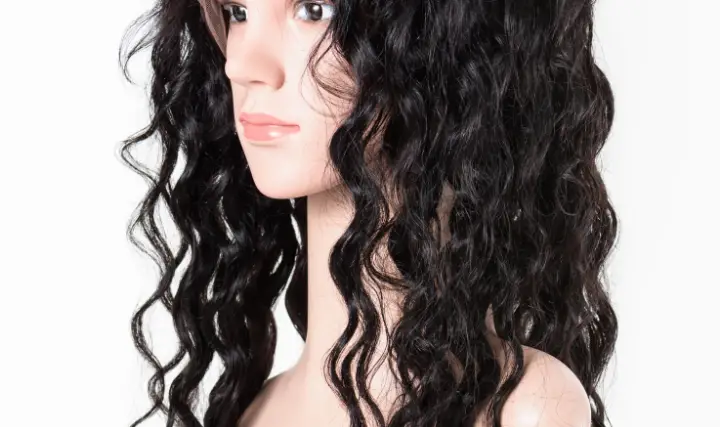 How to fix an artificial wig
Start restoring synthetic hair by washing it. If you can, brush the strands, but if they are too tangled, it is better to postpone this procedure.
Use boiled warm water for washing. Dilute a capful of shampoo in it, preferably for weakened or colored hair.
Soak the wig for half an hour, then rinse gently. Don't tug, rub, or squeeze.
To make the ends more manageable and soft, lubricate them with natural oil.
Now soak the wig in a solution of water and fabric softener. Leave it to soak for at least two hours and then take it out, leave it to drain, and lay it out to dry on a cotton cloth. Do not rinse!
Start brushing your hair after it has dried. If the strands are very tangled and look like a loofah, the procedure will be difficult and time-consuming. Use scissors to cut through knots, and only move on to bangs at the very end.
When you have combed the hair, put the wig on a bob, trim the ends and give the hair a nice shape.
You can also curl or flat iron your feather hair, and with a kanekalon version, simply blow-dry it and shake it – it will go back to its original shape after washing.
Curl a wig with a curling iron and hairpins
Read: How To Wash A Synthetic Wig With Fabric Softener
How To Repair a Ruined Natural Hair Wig
Spoiling a natural hair wig is very difficult. It takes a lot of effort to damage a quality product because human hair can be dyed, blow-dried, curled with a curling iron, and straightened with a flat iron.
That is, to do everything that you do with your own hair.
However, many are able to bring expensive natural wigs to a sad state. That is why the question often arises – how to save the wig, to return the original shine, volume, and softness.
How To Restore The Former Shine
Apply conditioner to clean wet hair. Spread the product well over the entire length of the hair – from roots to ends.
Place the wig in a plastic bag, and then put it in the microwave for half a minute. This is to allow the wet hair to warm up a bit.
Take out the bag with the wig and wrap it in a towel for a couple of hours to allow the hair to absorb the conditioner and become more moisturized and shiny.
Then all that's left is to brush the curls, starting from the ends.
Natural cosmetic oils – coconut oil, argan oil, grape seed oil – will help. You can even use virgin olive oil.
Apply a little oil to the hair + add a conditioner, mask, or conditioner.
Leave the wig on for 30 minutes. It is better to have it in a bag during this time so that the hair is well saturated with oil.
After that, wash the wig in the usual way (how to do it properly is written in detail here).
In this case, you need radical measures. And you can't do without a filleting razor. You will have to cut off the unaesthetic ends, which will give the wig a more groomed look and a beautiful shape.
You can do it yourself or in a hair salon.
To prevent the ends of natural hair from chipping and shagging, moisturize them more often with special products and oils.
How To Revive an Artificial Wig After a Curling Iron or Hair Dryer
If the old wig is made of kanekalon or modacrylic, then alas – no way! These products should not be subjected to heat treatment. The fibers lose their structure forever and cannot be restored.
So you have two choices – to cut off the damaged strands and make the wig a short haircut or not to bother and throw it away. And never repeat such a mistake again.
The product data sheet always contains information about the temperature they can withstand. Always pay attention to these figures and do not experiment unnecessarily.
Modern thermofiber wigs are another matter; they are allowed to curl with a curling iron, straighten with a flat iron, and dry with a hair dryer.
They will tolerate temperatures up to 200 C, so careful handling to cause them harm is very difficult. But if you still ruined your wig with a curling iron, how can you restore it?
Try one proven method that will return your artificial wig to smoothness, softness, and an attractive appearance:
Dilute Lenore (or any other laundry rinse) in a small amount of warm water. Soak your wig for two hours.
Then let the curls dry. Rinse conditioner is not necessary! Simply spread your hair out flat on a towel and leave it to dry.
Now comb your hair in small sections, starting at the tips.
After that, the hair of the wig will become more manageable, acquire an aesthetic appearance, and get rid of "shagginess" and dryness.
The popular problem "how to fix an old wig?" is relevant if the product is expensive, high quality, and made of natural hair.
Inexpensive synthetic wigs lose their original appeal faster than natural ones and cost much less. And in this case, it makes sense to simply replace the old wig with a new one.
What to do to avoid tangling of artificial hair
Use antistatic for clothes. For a synthetic wig, this product is ideal, but apply it to combed and already styled hair.
A thermal styling spray helps a lot. It reduces the electrification of the fibers and prevents tangling.
When wearing a wig, try not to wear bulky scarves and things with large high collars.
If you need to get your hair straightened and styled right away, apply some cream to the palms of your hands and run it through your curls to make them manageable and soft.
You can also use anti-static wipes. They are designed for natural hair but will be good for an artificial wig as well.
Before styling with thermal appliances, be sure to check the reaction of the artificial hair to the set temperature. It is safer to do it in an inconspicuous area, such as the back of your head.
To make beautiful curls, take curlers of different sizes – small, medium, and large. This way, your hairstyle will look more natural.
You should not use a hair dryer or a curling iron more than once a month. Too frequent heat treatment leads to strand breakage, making them too dry and stiff. Even thermal products lose their attractiveness if they are often curled and dried with a hair dryer.
If you need to style your hair for a festive event or a special occasion, then start restoring the wig 2-3 days in advance. So that if the "reanimation" fails, you will have time to buy a replacement wig.
How To Update a Wig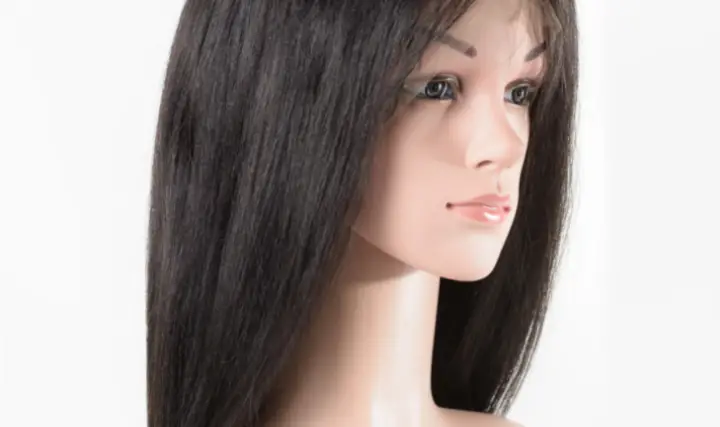 Natural wigs can forgive any experiments. To update a model of human hair, it is enough to repaint them in a new color or tint them. And, of course, to cut the split ends. You can also do a completely new style:
curl the curls with a curling iron or thermal curler;
straighten them with a curling iron;
or curling with curling tongs.
Mono wigs allow you to make any style and comb your hair in different directions. The inserts of mono foil on the crown and parietal area create the effect of natural hair growth.
Therefore it is very easy to update the styling of these models. The same applies to 100% handmade wigs, whose base is made entirely of fine mesh.
Another thing is how to update an artificial hair wig. You can't dye or tint them; you can't curl them with hot tools either.
After all the above procedures with washing and soaking in conditioner, you can only straighten the hair and cut the shaggy ends.
For cosplay, masquerades, and parties, such a wig is still suitable, but for everyday wear is unlikely.
The price of artificial wigs is affordable, so in most cases, it makes sense to buy a new beautiful wig rather than to restore the old one without a guarantee of success.
Now you know how to tidy up a synthetic wig and natural hair models. Follow our tips, and your wig will look spectacular for a long time.